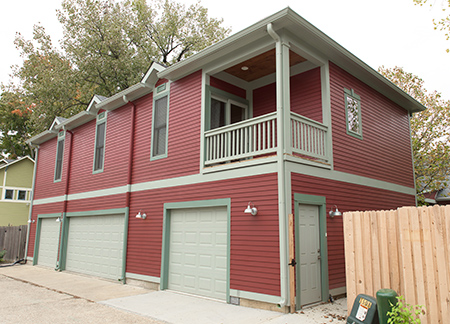 The upswing in downtown living is creating a secondary market for rentals that don't resemble the typical apartment unit.
Carriage houses are sprouting up atop more garages in some upscale and up-and-coming neighborhoods. Once popular in urban living mostly to lodge relatives or help, carriage houses are making a comeback for a handful of reasons.
Chief among them: Homeowners are looking to capitalize on the hot downtown housing market by creating rental units—and they no longer need to seek a variance to build them under new city zoning rules, cutting down on the time and red tape.
Melissa Iannucci, an architect and owner of Trade Design Studio, has designed four in the past two years to complement her custom homes, all in the rebounding Herron-Morton neighborhood north of East 16th Street.
"I see them popping up all the time now," said Iannucci, who credits the increase to an improving economy and skyrocketing housing prices in Herron-Morton that make it easier for homeowners to justify the additional expense.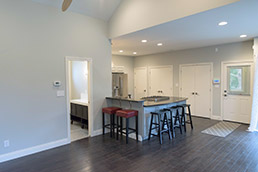 The carriage house apartment in the city's Old Northside features a cathedral ceiling, hardwood floors, granite countertops and stainless-steel appliances. (IBJ photo/Eric Learned)
To be sure, new homes in the neighborhood that are rising on vacant lots run an average of about $800,000. That's a far cry from years past, when Herron-Morton and other neighborhoods surrounding downtown lost scores of residents to the suburbs.
Now, they're returning in droves and creating enough demand for even unconventional apartment living above garages.
"It helps the resale value of the property to have an income property," said Lori Ball, who lives in the Old Northside with partner Lisa Hicks. "There's an economic benefit, and it benefits someone who doesn't want a condo or apartment."
Ball, former chief operating officer of BioStorage Technologies Inc. and owner of the Lab Strategies LLC consultancy, and Hicks, chairwoman of the kinesiology department at the University of Indianapolis, moved to North New Jersey Street from Irvington in 2012 to take advantage of downtown's growing amenities.
Their two-story, 2,700-square-foot home, built in 1995, blends in with the historic nature of the Old Northside but lacked the space they soon discovered they needed. While planning for the 1,300-square-foot addition the couple would build onto the first floor, they began contemplating a carriage home to help supplement the cost of their mortgage.
Ball and Hicks figured if they were going to build one, they'd do it right and spare no expense. Roughly $100,000 later, counting what they spent on the addition, their carriage house is ready for occupancy.
They're asking $1,650 a month—an amount the two say is below market based on their research—and are starting to get plenty of interest, mostly from word of mouth.
"The rent amount doesn't seem to faze [prospects] at all," Ball said.
The 1,000-square-foot addition to the garage features two bedrooms, two baths, a cathedral ceiling, hardwood floors, granite countertops and stainless-steel appliances—pretty much what would be available at downtown's high-end apartment projects.
In addition, the unit comes with an alarm system, and is outfitted for cable television and Wi-Fi service. A tenant also gets to enjoy his or her own garage stall. The two had the extra stall built onto their three-car garage to add more square footage to the carriage house.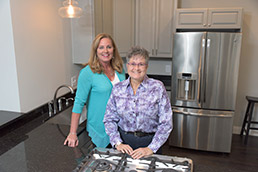 Lisa Hicks, left, and Lori Ball were expanding their Old Northside home when they decided to build a carriage house to help supplement the cost of their mortgage. (IBJ photo/Eric Learned)
They even invested in "really expensive" belt-driven garage-door openers that are quieter than normal chain-driven openers.
"There's a lot that goes into the discussion," Ball said, "because, all of a sudden, you've got someone on your property now."
Not all carriage houses are built as rentals. Ball and Hicks said one of their neighbors added one to give their children separate play space. And Reed and Jenny Hoyer on North Alabama Street are using theirs as guest quarters for visitors.
They moved in February to their 3,000-square-foot house built in 1875 from Bloomington for job opportunities. He's a hand surgeon at the Indiana Hand To Shoulder Center and she's a kidney transplant coordinator at St. Vincent Hospital in Indianapolis.
But they didn't build their carriage house; it already existed atop their three-car garage and was added about 10 years ago. It's a one-bedroom with a living room and full kitchen.
Upon buying the house, the Hoyers stipulated in the purchase agreement that the renter occupying the carriage house under the previous owner must leave. It's vacant now and, besides making it available to friends and family, the Hoyers might list it on Airbnb.com.
"It was a big selling point for us," Jenny Hoyer said of the carriage house.
Other uses exist still.
Iannucci, the architect, said she's designed one for a family with two daughters in college. The parents are building it for their first apartment or perhaps first home upon one of them getting married.
But Joe Everhart, a longtime downtown real estate agent, cautions homeowners about jumping on the trend.
"It's like a pool," he said. "If you want it, it's really great; if you don't, it's a lot to maintain."•
Please enable JavaScript to view this content.