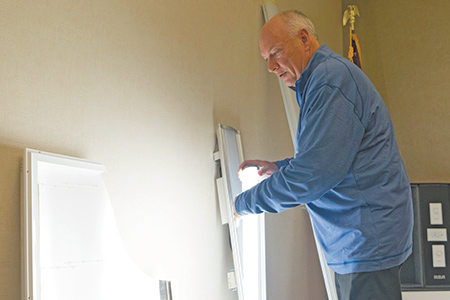 For decades, the RCA brand has been associated with televisions and other consumer electronics.
But it's a relatively new product—LED lighting—that's helping fuel big growth for Indianapolis-based RCA Commercial Electronics.
Using the same technology that illuminates RCA television screens, the company came up with a commercial LED light in 2011.
Now, with 30 employees and annual sales of $30 million, RCA Commercial Electronics has hit its biggest milestone yet: It's been named an approved lighting supplier for United Parcel Service Inc., which means RCA lights can be used in the shipping giant's 1,800 U.S. sorting facilities.
Jeff Kingston, RCA's CEO, estimates the UPS orders will be worth $50 million, a 66 percent increase over RCA's current total sales.
"It is big. Very big," Kingston said. "This particular one really puts us on the map."
Just last week, RCA Commercial—which has a licensing agreement to use the heavy-hitting RCA name—moved out of its old offices and warehouse space, which the company had outgrown. It moved office space just down the road within the Park 100 industrial complex just north of West 71st Street. Its warehouse is a mile or so north on Zionsville Road.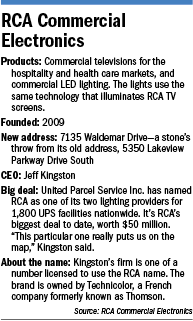 And Kingston, 59, sees more growth ahead. "We're looking at doubling our employee count here in the next 12 to 16 months," he said.
The company is also seeing growth in its other line of business—supplying commercial televisions to the hospitality and health care markets, Kingston said. The LED lighting market, though, is especially exciting to Kingston because it represents an emerging opportunity.
According to the National Electrical Manufacturers Association, LED lighting had a market penetration of 0.2 percent at the beginning of 2012. That grew to 21 percent in the second quarter of this year.
LED lighting benefits from the federal Energy Independence and Security Act of 2007, which required lightbulbs to meet higher efficiency standards starting in 2012. And LEDs are more efficient than other forms of lighting, according to the U.S. Department of Energy.
The electricity cost to burn an Energy Star-rated LED bulb for two hours per day is about $1 per year, the Energy Department says. A comparable compact fluorescent light—known as a CFL—costs $1.20 per year. A traditional 60-watt incandescent bulb costs $4.80 per year and a halogen incandescent bulb costs $3.50 per year.
LED bulbs also last up to 25 times longer than incandescent bulbs and more than twice as long as CFLs, the department says.
RCA's lights generate illumination using a series of small LED lights along the inside frame of the lighting panel. A diffuser helps spread the light over the surface of the panel.
There are no bulbs to break or burn out and the unit lasts 10-15 years. The lights are dimmable and waterproof, and they're sealed so bugs and dirt can't collect inside.
Even so, Kingston said customers weren't interested in trying the new lights when his company began pitching them four years ago.
"When we first started, we had to pitch the products over and over and over. People just didn't believe it," Kingston said. "We went all over this city and demonstrated these lights."
Over time, RCA started to win some customers. Among them: Brown's Flooring, on Westfield Boulevard near East 86th Street. The store's original lighting was dim, especially on cloudy days, said Bob Workman, who owns the business with his wife, Shannon.
Workman met Kingston when the RCA executive came in to buy flooring.
Kingston suggested Workman try LED lights in four fixtures as a trial. Workman liked the results so much that he converted the whole store—17 fixtures—from fluorescent to LED.
Workman said the new lights are brighter and their light quality is better, making it easier to match color samples.
"It really makes a huge difference in here," he said. "I've been very pleased with it and happy I did it."
The shop spent about $4,000 on the lights but Workman said he saves $100 a month on his electricity bill.
Kingston said other lighting clients include Eli Lilly and Co. and Hoosier Park racetrack in Anderson, plus several nationwide: health care facilities like Atlanta Medical Center, and franchise locations for Do it Best hardware, Wild Birds Unlimited and McDonald's.
The UPS deal came from a single project RCA did for the shipping giant—a lighting upgrade at an employee parking garage in Atlanta.
UPS' top facilities executive works at that site, Kingston said, and he liked the new lights. From there, UPS went on to name RCA as an approved lighting provider. As UPS workers sort packages into delivery trucks, they need lighting that shines in both the loading area and into the truck.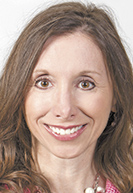 Petrella
"The lighting has to be just right," said UPS spokeswoman Kristen Petrella.
UPS had used a variety of vendors for those custom lights, but decided it wanted a more standard approach going forward. Several months ago, UPS selected RCA and a second lighting vendor, Petrella said.
That means that, as UPS package-sorting facilities replace their old lights or if the company builds new facilities, the lights will come from one of the two vendors.
RCA Commercial Electronics designs its lights and TVs in Indianapolis. Manufacturing takes place in China and South Korea.
The business has a connection to the company formerly known as Thomson Consumer Electronics, a French manufacturer whose North American headquarters used to be in Indianapolis.
Thomson's brands included RCA, which used to employ thousands of Hoosiers in Indianapolis, Bloomington and Marion. All those factories are now closed. "We just picked up the pieces," Kingston said.
Thomson, which now operates under the name Technicolor, still owns the RCA brand. Kingston's company is one of a number of entities that has a license to use the name.
That's helped open doors, Kingston said. "We're not a 10,000-employee business, but the RCA name carries a lot of weight."•
Please enable JavaScript to view this content.