I like outdoor dining in theory. But in practice, there's usually an annoying sense of being on display. The pedestrians are too close or the traffic is too loud. The lunchtime sun hits at the wrong angle or a particular fly keeps coming back for more.
If, however, all outdoor dining were as comfortable and stress-free as Sky City Café's, maybe I'd do it more often.
With patio seating overlooking the downtown canal, Sky City Café occupies the back end of the Eiteljorg Museum with a nice view of Military Park and the Medal of Honor Memorial. It specializes in soups and sandwiches, with wall-mounted menus, an indoor counter for ordering and a wait staff that delivers the food.
I've dined there a few times over the years, always opting for the outdoor seating, where more than one out-of-town guest has been impressed as much with the environs as with the food.
The soups change daily at Sky City, so it might not help to tell you that on our visit both the Buffalo Chili and Roasted Red Pepper Bisque ($3.25) were a little on the oily side and could have used more creative spices. Both came with a substantial cube of hearty corn bread. The daily quesadilla ($6.50) this time out was a deliciously thin, just-crunchy-enough set of tortilla wedges holding in red pepper, corn, cilantro and Monterey jack cheese.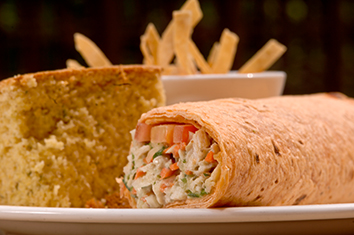 The Chicken Dzik wrap is part of permanent Sky City Café menu. Soups change daily. (IBJ Photo/Robin Jerstad)
Also on the soup lineup was Chicken Corn Chowder ($3.25), which we paired with the Silver City Caesar Salad ($7.75). The latter featured fresh romaine accented with red chili croutons, shaved Manchego cheese and just the right amount of dressing. The simple salad had plenty of flavor and proved perfect for lunch on the veranda.
There are also sandwiches on the menu, including a Chicken Dzik Wrap ($8)—a southwestern chicken salad of sorts that featured carrots, radish, jalapeno and cabbage slaw, tossed in a creamy avocado lime dressing and snuggled inside a roasted tomato tortilla. The bevy of veggies all but obscured what was billed as pulled grilled chicken, but we did detect some protein in the dish.
Overall, Sky City works for me whether taking a break from visiting the galleries or strolling in from a lunchtime sojourn on the canal. Museums considering putting in a dining hall would be wise to see how the Eiteljorg has found an audience-pleasing spot that also fits in nicely with its identity.
__________
Fourth in our month-long series of Cultural District restaurant visits.
Please enable JavaScript to view this content.