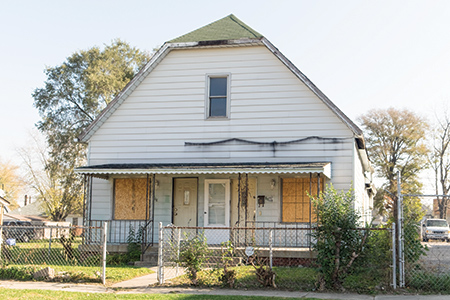 Fall Creek Place north of downtown is a shining example of a neighborhood where new investment rescued it from decades of decay.
But a new study commissioned by the not-for-profit land bank Renew Indianapolis shows that just a tiny fraction of the city's population is benefiting from renewed investment.
A far greater percentage struggles with declining incomes and home values.
Moreover, Indianapolis is trailing peer cities throughout the Midwest in those key economic indicators, further exacerbating the problem.
The contrast illustrated in the report from the Flint, Michigan-based Center for Community Progress is getting close attention from city leaders grappling with how to close the growing divide.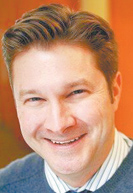 Bennett
"We have to be much more aggressive," said Jeff Bennett, deputy mayor of community development. "We can't sit back and wait for other levels of government to come along. We need to be much more aggressive at the city level."
Renew Indianapolis, which strives to return vacant and tax-delinquent properties to the city's tax rolls, requested the study to get a grasp on which areas are suffering the most from disinvestment.
Renn
"Seeing it on paper was striking and reiterates the call to continue to invest in core neighborhoods," said Katy Renn, Renew Indianapolis' executive director.
The 22-page report defines gentrified areas as those that were low-income in 2000 and showed significant increases in both household incomes and house prices by 2014. It concluded that only 16,750 Indianapolis residents—just 2 percent of the population—live in gentrified neighborhoods, mostly in and around downtown. That compares with 30 percent who reside in declining areas spread throughout the east, west and south sides.
In fact, only a few downtown areas and pockets surrounding Meridian Street are considered areas of strong income and house value growth at all.
The Center for Community Progress, a not-for-profit that helps communities transform vacant properties into assets, studied Indianapolis' 200 census tracts and found that just five experienced gentrification in that span. The five are downtown and in Fall Creek Place and the near-east-side neighborhoods of Cottage Home and Holy Cross.
The improvements are most striking in Fall Creek Place, where an infusion of public and private investment in the early 2000s transformed vacant lots and abandoned homes into new residences. In that neighborhood, the median household income increased 153 percent, from $20,000 to $45,125, and the median home value climbed nearly 126 percent, from $72,300 to $183,000.
The city needs more neighborhoods racking up similar successes, the study found.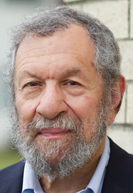 Mallach
"There are few cities where gentrification is clearly the driving force," said Alan Mallach, a senior fellow at the Center for Community Progress who conducted the research. "There's no question that certain parts of the city are being gentrified, but there are other parts that are actually declining significantly."
The report notes that not all the effects of gentrification are desirable. For example, it can force out lower-income residents unable to pay higher rents or taxes, and it can disrupt racial and ethnic makeup.
In the Cottage Home and Holy Cross neighborhoods, for example, the black population fell more than 56 percent from 2000 to 2014. In Fall Creek Place, the amount dropped 43.4 percent.
"Gentrification can create problems, but it also can create pluses," Mallach said. "Neighborhood decline is flat-out a problem. There's nothing good about it."
One of the most troubling findings in the report is that Indianapolis seems to be falling behind its Midwestern peers.
From 2000 to 2014, median household income in Indianapolis grew 5.1 percent, to $42,076, far less than in Columbus, Ohio; Kansas City, Missouri; and Milwaukee, Wisconsin, where increases ranged from 10.8 percent to 22.6 percent.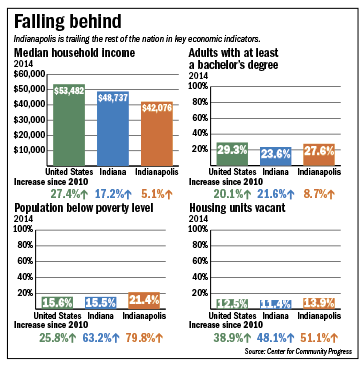 And while the median home value in Indianapolis rose 21.3 percent, to $117,200, values in the other cities jumped from 30.1 percent to 60.4 percent.
"Indianapolis is really lagging, whether you're looking at the U.S., Indiana or peer cities," Mallach said.
Why is Indianapolis faring worse, when many cities are confronting the same problems? Deputy Mayor Bennett attributes much of the decline to the loss of good-paying manufacturing jobs that traditionally supported working-class neighborhoods.
That situation might get worse, with decisions from Carrier Corp. and Rexnord Corp. this year to move operations to Mexico.
Carrier announced in February that it will shut its Indianapolis plant, resulting in the loss of 1,400 jobs from 2017 to 2019. Rexnord on Nov. 14 made plans official to close its bearings plant, throwing 350 employees out of work.
Bringing lower-skill jobs to sections of the city where manufacturers once thrived is key to neighborhood revitalization, Bennett said.
He cited three potential job creators: The Mass Ave industrial corridor, the vacant Citizens Energy Group coke plant property on the southeast side, and the former General Motors stamping plant property just west of downtown.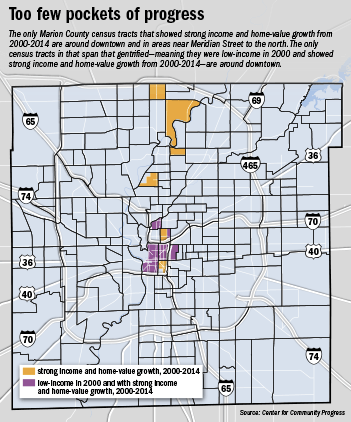 Mayor Joe Hogsett, who made neighborhood revitalization a centerpiece of his election campaign, has trekked areas of the city where residents can see the downtown skyline from their doorstep but haven't benefited from the residual effects, Bennett said.
Jessica Fraser, executive director of the Indianapolis-based Indiana Institute for Working Families, isn't surprised by the study's results.
"When you look at the state in general, Marion County is still the one with the highest poverty rates and lowest income equality," she said. "Lots of low-wage, service-sector work has a lot to do with it."
The result is that more than one-fourth of the city's 200 census tracts suffer from housing vacancy rates of at least 20 percent, or what's known as "hyper-vacancy." Another quarter are strapped with vacancy rates from 12 percent to 20 percent.
The not-for-profit Local Initiatives Support Corp., which provided the $5,000 grant to Renew Indianapolis for the study, hopes to help turn around six Indianapolis neighborhoods through its Great Places 2020 initiative.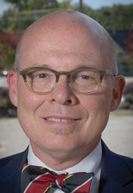 Taft
The citywide effort led by LISC aims to funnel private-sector investments into targeted neglected neighborhoods. It has already identified three—the areas around 38th and Illinois streets, East Washington and Oxford streets, and West Michigan Street and King Avenue—and plans to add two more this month.
More than 50 partner organizations have committed $105 million to the effort, including $50 million from New York-based LISC—funds that will help leverage additional private investment.
"We need to build into the neighborhoods amenities people will want in the future and help them become a little more urban," said LISC Executive Director Bill Taft, pointing to walkability and access to transit as examples. "It's what Plan 2020 calls for, creating urban villages."•
Please enable JavaScript to view this content.