Vickie Kellerman wants the economic development equivalent of
comfort food.
As head of the Greensburg/Decatur County Economic Development Corp., she has
the deal of the decade—a new Honda plant—in her backyard. But the recession
has slowed the automaker's hiring, and parts makers across the state have shed hundreds of jobs.
So what's calling to Kellerman from the industrial menu? Try something
like KB Specialty Foods, a division of the Cincinnati-based Kroger Co. that makes deli
salads. Kellerman expects KB to add a frosted-cake line at the company's Greensburg plant.
 "We're thinking that particular industry would be good for us to pursue," Kellerman said of
food processing in general. "It seems to be rather recession-proof. People continue to eat."
The Indiana Economic Development Corp., which spearheads economic development statewide, has
not made luring food processors a top priority—in part because the sector typically pays mediocre
wages.
But regional and county economic development leaders see the industry's stability
as attractive as they try to become less reliant on the battered auto industry. Recent investments, including
Nestle USA's $559 million bottling plant in Anderson, make the food industry look even more alluring.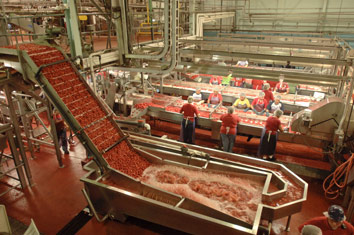 Red Gold employs
1,200 people in Madison County, but hiring has slowed in recent years. (IBJ File Photo)
Diversification away
from autos is a top priority for Rob Sparks, executive director of the Anderson/Madison County Corporation
for Economic Development. While he doesn't expect to land another project the size of Nestle, he said, "I
think there's going to be fairly significant projects in the food industry."
Food manufacturing doesn't
have the qualities that typically get economic developers revved up. The industry is slow to expand, and aside from a few
high-profile projects, most companies are in a cost-cutting mode. Capital investment is down, though analysts expect spending
to increase once the economy improves.
An annual survey by Food Processing magazine identified $9.56 million
in capital spending this year, down 2.9 percent from $9.85 million spent last year. The magazine surveyed
plans by the 20 largest publicly held food and beverage companies.
"Most food processors
and food manufacturers were hurt tremendously in 2008 by commodity prices," said Dexter Manning,
Atlanta-based leader of the food-and-beverage practice at consulting firm Grant Thornton. "Most
companies have held back on expansion in the past year or two," even as commodity prices have fallen.
Shambaugh and Sons, a leading food plant designer and builder based in Fort Wayne, is seeing very
little new construction, CEO Mark Schambaugh said.
"Most of them are retrofitting and re-engineering lines,
or consolidating," he said of potential clients. "Therefore, they're bringing lines from vacated plants
into existing facilities."
Neither Kroger nor KB Specialty returned phone calls regarding the Greensburg
plant.
Efficiency-driven
Consolidation is what's driving Nestle's work
in Anderson. The company says its Anderson plant will be the sole U.S. bottler of flavored milk and coffee creamer. The plant
and distribution hub will replace an undisclosed number of contracted facilities elsewhere.
Nestle says its
$559 million investment will save on distribution costs. One reason is Anderson's central location;
the other is a processing technology that gives the milk and creamer a long shelf life.
Red Gold, another Madison County food company that's among the largest in the country, has invested
in new technology to expand into all sorts of tomato-based products.
Midwestern consumers know the family-owned
company for its brand of canned tomatoes. They might not realize that Red Gold is second only to Heinz
in tomato manufacturing and produces 95 percent of all private-label ketchup, Human Resources Director
Tim Ingle said.
The Orestes-based company has grown from 300 employees in the early 1990s to 1,200 today. Ingle
said the pace of hiring slowed in the past several years as Red Gold brought in more automated equipment. The new technology
helps produce items such as bags of pizza sauce and ketchup packets.
"It's down to a few big players,"
Ingle said of the tomato industry. "We can do a lot of growing organically."
Manning said food processors
will invest in equipment, or even new plants, if it will save money in the long run. One of his clients, Connecticut-based
ice cream maker Carvel, closed three ice cream cake plants to consolidate into a new, automated facility.
"They
were able to lower the cost of delivery by building a new plant," Manning said.
Chasing tastes
Food companies continue to chase consumer trends, and that will drive some new investment, Manning said.
Despite the recession, Manning does not foresee consumers turning away from products that seem healthier. Food companies
are researching low-calorie sweeteners, creating smaller packages and figuring out how to make wholesome foods such as brown
rice cook faster.
"They're putting more and more money behind the [research and development] for
these types of vehicles," Manning said. "They see those selling better."
Indiana has landed one "organic and natural" player, Really Cool Foods. The company makes
prepackaged meals for grocery stores, including Whole Foods. It built a $24 million manufacturing and
distribution facility in Wayne County in 2008.
Really Cool Foods so far employs about 250
people, and it's been one of the few sources of new jobs for eastern Indiana.
Food makers
also are capitalizing on consumers' newfound thriftiness. A Memphis beef jerky maker bought out Al Pete Meats in Muncie
in 2008 and has high hopes for corn dogs.
"We've added almost $20 million worth of annualized corn
dog [revenue]," said Karl Schledwitz, CEO of Monogram Food Solutions in Memphis. "Right now, hot dogs, corn dogs
and value-priced commodities are growing."
Monogram was formed in 2004 to buy the King Cotton and Circle
B meat snacks brands from Chicago-based Sara Lee Corp. Schledwitz said Monogram has invested $5 million and added 50 jobs
at the former Al Pete Meats plant in Muncie.
Schledwitz said the company might add yet another corn dog line
to meet demand from grocery chains for private-label corn dogs. "The Krogers and Safeways of the
world are looking for people to make their private-label product," he said. "We're
filling that need big time."
Modest gains
Gov. Mitch Daniels' administration
isn't putting a special effort into attracting food makers, despite big gains with Nestle and Really
Cool Foods.
One big reason is that sector's low wages.
Annual pay at
meat processors and bakeries in 2006 was less than $30,000 and $35,000, respectively, according to a
2008 study by the Indiana Business Research Center. The meat and bakery categories accounted for 51 percent
of the state's 32,000 food-manufacturing jobs in 2006, the IBRC study found.
The Indiana Economic Development
Corp. will welcome any industry because officials recognize that the state "needs jobs for hard-working Hoosiers of
all backgrounds," spokeswoman Blair West said.
At the same time, the IEDC hasn't assigned any one
staff member to track leads from the food industry. "We are focused on reversing Indiana's
decline in per-capita income and moving the state into a pre-eminent position in the nation's economy,"
West said. "To this end, some of our industry initiatives include life sciences and energy."
Food processors tend to choose small towns, where it's easier to live on hourly wages
of $15 or less. Available resources—food processing requires tons of water—is also a factor.
Red Gold has been canning Indiana-grown tomatoes since 1942. Back then the work was seasonal.
Today the business of making tomato-based juices and sauces lasts all year.
Wages on the production
line start at $13.48 per hour and top out at $18.21, said Ingle, the human resources director. Electricians and mechanics
can make $24.99 per hour.
Ingle said one reason Red Gold has kept its operation in Indiana is its relationship
with Purdue University scientists.
"Down in Indianapolis, the focus is on life sciences and distribution,"
he said. But agriculture-based businesses provide much-needed diversity.
"When the economy's good,
we've done well," Ingle said. "When the economy's not good, people continue to eat."•
Please enable JavaScript to view this content.