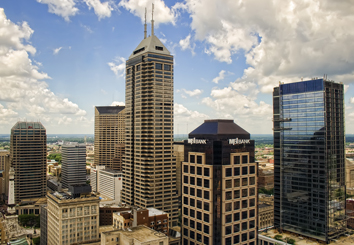 The Indianapolis-area office market is poised to finish the year with strong momentum based on rising occupancy and richer asking rents that should continue into 2017.
Through September, overall office vacancy stood at 15.3 percent, a smidge lower than the 16 percent recorded through the third quarter of last year, according to the latest report from the Colliers Indianapolis office.
The decline was even larger downtown, where vacancy dropped an entire percentage point, from 19.1 percent to 18.1 percent during the same period.
With metro-area unemployment at 4.2 percent through September, which was lower than the national rate of 5 percent, the region added 2,200 office-user jobs in the past 12 months, helping to drive down vacancy.
Downtown has developed some tech-savvy cachet, bolstered by San Francisco-based Salesforce.com Inc.'s announcement in May that it plans to add 800 jobs in Indianapolis by 2021 and establish a regional headquarters in the former Chase Tower, now renamed Salesforce Tower.
Rich Forslund, an office broker at Colliers, is seeing firsthand a renewed interest in downtown. He recently assisted a suburban company, which is close to signing a lease to occupy an entire floor at BMO Plaza, with its search for downtown space. Forslund declined to name the firm because the lease is not final.
"They believe that the younger workforce is looking for a more urban environment," Forslund said of his client. "That's not always the case, but you are seeing that shift."
In the third quarter, the Indianapolis office market saw nearly 162,000 square feet of positive net absorption, marking the 10th consecutive quarter it's recorded net occupancy gains, the local Cushman & Wakefield office said in its latest office report.
In the North Meridian corridor, vacancy dipped from 9.1 percent in the third quarter of 2015 to 8.5 percent through September of this year, Colliers said. Another strong office market, Keystone at the Crossing, saw vacancy fall from 15 percent to 14 percent during the same period.
The strong activity has pushed average asking rents in the overall market from $18.30 per square foot in the third quarter of 2015 to $18.81 per square foot in the same period this year—an increase of about 2.8 percent. Average rents for downtown space jumped 5.6 percent from $19.35 per square foot to $20.44 per square foot, Colliers said.
Investment activity has been strong as well. More than 3.5 million square feet traded hands in the third quarter totaling $480 million, Cushman said.
Notable office building sales included Hertz Investment Group's purchase in August of Salesforce Tower & Circle Building and the PNC Center, as part of a $416.9 million, four-property acquisition. The two other properties sold in the package were in Milwaukee, Wisconsin, and Cleveland, Ohio.
Also in August, Duke Realty Corp. sold the 1.2 million-square-foot Parkwood Crossing on the north side for $162.9 million to Philadelphia-based Rubenstein Partners and Strategic Capital Partners of Indianapolis.
Through September, more than 5.5 million square feet traded for $558 million, far surpassing record year-to-date investment levels for the Indianapolis market, Colliers said.
"There's money to be placed," Forslund said. "[Investors are] getting priced out of the East and West Coast markets, so they're driving those dollars to the Midwest now."
Office projects completed in the third quarter include PK Partners' 102,000-square-foot River North at Keystone spec building and Baltimore-based Atapco Properties' 61,000-square-foot Lakeside Green Business Center at Guilford Road and Carmel Drive in Carmel.
Please enable JavaScript to view this content.