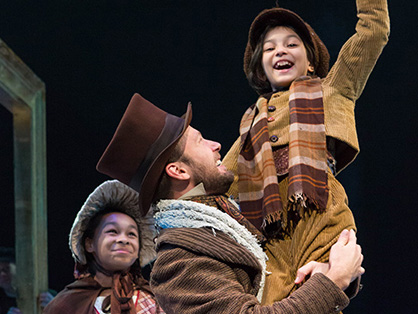 In the not-for-profit arts world, the bottom line is dependent on earned income, grants, philanthropic donations—and tried-and-true Christmas offerings.
Here in central Indiana each year, you can count on the Indiana Repertory Theatre to cover its stage with snow for "A Christmas Carol," dance companies to unleash sugar-plum fairies and other characters from "The Nutcracker," and the Indianapolis Symphony Orchestra to raise the baton on its "Yuletide Celebration" to packed houses.
And those are just the tip of the icicle.
A December doesn't go by without Christmas at the Zoo, the Eiteljorg Museum's "Jingle Rails" and Encore Vocal Arts' teaming with the Indianapolis Chamber Orchestra for the high-powered Handel's "Messiah." Meanwhile, "A Very Phoenix Xmas" is in its 11th edition.
Three major annual productions illustrate the budget-balancing impact of these predictable holiday gifts.
The 'Carol'-ing continues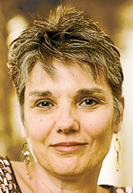 Allen
"It's the only thing we do that actually pays for itself," said Janet Allen, artistic director of the Indiana Repertory Theatre, which is offering 28 public shows and 30 student matinees of "A Christmas Carol" this season. "More than that," she added, "it allows for us to do less-well-known work in the rest of the season."
IRT isn't alone in making good use of the "Christmas Carol" workhorse. According to Teresa Eyring of New York-based Theatre Communications Group, a version of the Charles Dickens classic is produced at 41 of its member theaters around the country. "And there's even more in community theaters," Eyring said.
There are so many productions that Theatre Communications Group keeps "A Christmas Carol" off its annual list of most-performed plays because it would top the list every year.
At the IRT, "A Christmas Carol" accounts for 24 percent of the theater's annual ticket revenue, bringing in about $700,000. That's about 11 percent of IRT's total budget.
In addition, sponsorships for "A Christmas Carol" total $125,000 to $175,000, depending on the year. 
Allen and IRT Managing Director Suzanne Sweeney acknowledge that "A Christmas Carol" benefits from being curriculum-based, which helps with school-group bookings (as opposed to, say, "A Christmas Story," which some have suggested as a possible replacement show). Sweeney said 17,000 students will see this year's production.
And there's the benefit of being able to amortize costumes and sets. "I can think of a lot of things I'd rather spend money on than creating a new Christmas mainstay," Allen said.

For a while, though, she thought she might have to pull the plug when revenue for the show slipped in the recession.
"We wondered if that was the end of it," Allen said. "But it righted itself faster than anything. It's our canary in the coal mine on how the economy is doing. When 'A Christmas Carol' is doing well, it's always a good sign."
In theater, "predicting ticket sales is always dicey," she said. "You're always throwing darts. But with 'A Christmas Carol,' you're throwing super-informed darts."
"A lot of people who come to 'A Christmas Carol' only come to 'A Christmas Carol,'" Sweeney added. "And that's OK. But it's also a way we get people to come and try us."
Cracking the same nuts
It's the 10th season for Indianapolis School of Ballet's production of "The Nutcracker" and, rather than rest on success (all five shows sold out last December in the 750-seat Scottish Rite Cathedral), ISB has upped its ambitions.
This year, it's moving to the Murat Theatre to perform for the first time with the Indianapolis Symphony Orchestra. The ISO hasn't accompanied a full "Nutcracker" in more than 30 years.
"It's the first ballet that our artistic director danced with when she was with the New York City Ballet," said ISB Director of Marketing and Communications Kara Hooley, "so it has a soft spot in her heart."
But sentimentality isn't why "The Nutcracker" has become a given for most ballet companies.
ISB generated about 75 percent of total ticket revenue from 'Nutcracker' in 2015 and this year expects that to increase to 84 percent.
Overall, 'Nutcracker' tickets were about 12 percent of the ballet's total revenue last year. It could be as much as 17 percent this year.
And since 'Nutcracker' was first performed in the United States in 1944, the show has anchored companies around the country. For many young dancers, it's their first stage appearance beyond an audience of friends and family. Recognizable music, a story that doesn't require much explanation, and the ability of companies to pack the stage with kids and sell tickets to their extended families—help as well. ISB's production incorporates both students (who audition for roles) and professionals. Another cost saver: Not only are the student performers unpaid, they are expected to cough up a costume fee to participate.
Sales are already ahead of last year and a grant from the Allen Whitehill Clowes Charitable Foundation is helping cover the estimated $150,000 production cost (up from the ISO-less $50,000 in 2015). Hooley expects income to ultimately exceed expenses and would be happy if tickets sales hit 4,600. To hedge that bet, sales began earlier than usual, well before Thanksgiving.
ISB isn't alone in relying heavily on the popular ballet. Gregory Hancock Dance Theatre, Butler Ballet, Central Indiana Dance Ensemble, and Indiana Ballet Conservatory are among other groups cracking nuts this time of year.
Celebrating 'Yuletide'
The Indianapolis Symphony Orchestra's "Yuletide Celebration" isn't just a key element on its balance sheet; it's the envy of symphonies around the country.
With 31 performances (up from 26 last year), the musical variety show—complete with tap-dancing Santas—monopolizes the Hilbert Circle Theatre for December, accounting for 21 percent of earned revenue last year. That translated to $2.01 million, a number that doesn't factor in "Yuletide" sponsorships, including revenue from title sponsor IPL.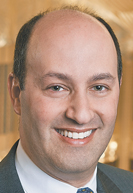 Ginstling
"We have a great relationship [with IPL] and would love for it to continue," said ISO CEO Gary Ginstling of the three-year deal, which concludes this year.
It's not just the popularity of the program that boosts those numbers. Any other time in the ISO season, the average ticket purchaser is buying 2.6 tickets. "Yuletide" sparks multi-generational sales, with families taking in the show together, bringing the average up to five tickets per sale. You don't have to be a marketing wiz to see how such math benefits the organization.
Staging "Yuletide Celebration" involves a lot more than just dusting off last year's musical arrangements and dragging scenery out of storage. On top of 60 orchestra members, "Yuletide" features a cast of 47 and requires a crew of 26. And while some of its segments are repeated year after year, much of the program varies, with new sections built around the host (this year, "The Voice" winner Josh Kaufman) and guest artists (in this case, tap dancers Sean and John Scott).
As with most holiday productions, though, there's only so much room to grow.
"We have to start after Thanksgiving and end on the 23rd so everyone can get home for Christmas," said Ginstling, pointing out that there can be a five-performance swing in available dates in any given year, depending on when Christmas falls.•
Please enable JavaScript to view this content.