Should the Trump administration defend and implement new overtime rules that would raise salaries or provide overtime pay for millions of workers nationwide?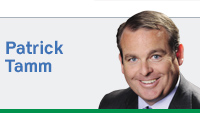 The recent decision by the Eastern District Court of Texas that granted an emergency injunction on the U.S. Department of Labor's new overtime rule—which had been set to take effect on Dec. 1—was welcomed by the hospitality industry. This rule is too much, too soon and it will have a far-reaching negative impact on the nation's second-largest private-sector industry and the millions who work in the industry.

Flexibility and upward mobility are trademarks of the hospitality industry and remain among the most desirable assets that attract employees. This industry leads the way in opportunity to those from all walks of life and truly delivers on the American dream. We lead in women and minority ownership growth across all industries. Indiana's hospitality industry employs more than 14 percent of the state. One of the reasons we are among the nation's largest private-sector employers is because of the career ladder we offer.

More than 80 percent of restaurant owners and 97 percent of restaurant managers start their careers in non-managerial positions and move up with performance-based incentives. A large majority started in entry-level positions: dishwashers, bussers, desk clerks and valets.

The same holds true for the hotel industry, with the majority of hotel managers and general managers beginning their hotel careers in entry-level positions. Further, 80 percent of hotel employees are eligible for promotions in less than a year and 100 percent are eligible in less than two years. These regulations mean salaried employees, who have worked hard to get where they are, could be subject to becoming hourly employees once again. Furthermore, hourly workers who could be eligible to become salaried employees would most likely become stagnant.

The industry shares the goal of setting a standard salary level for full-time salaried employees that—as the rule states—"adequately distinguishes between employees who may meet the duties requirements of the EAP [employee assistance program] exemption and those who likely do not, without necessitating a return to the more detailed long duties test." However, increasing the threshold by such a drastic amount will cause labor costs to dramatically increase. This will have a negative impact on many of the employees the regulation was specifically intended to help.
Thus, while fewer than a million workers might see some benefit, 3.5 million workers will be demoted from salaried positions with benefits to an hourly employee status where they will be paid only for hours worked and have fewer benefits. Rather than boosting the pay and livelihoods of employees, they are slowly chipping away at the important foundation that has led to so many successful career stories.

The Trump administration should revisit the current proposal to work with employers to consider the negative ramifications of this unnecessary mandate on businesses of all sizes. This proposed rule will have a far-reaching negative impact on employees across the country and requires immediate review to ensure that the hospitality industry continues to deliver as the industry of opportunity.•

__________

Tamm is the president and CEO of the Indiana Restaurant & Lodging Association.Send comments to ibjedit@ibj.com.