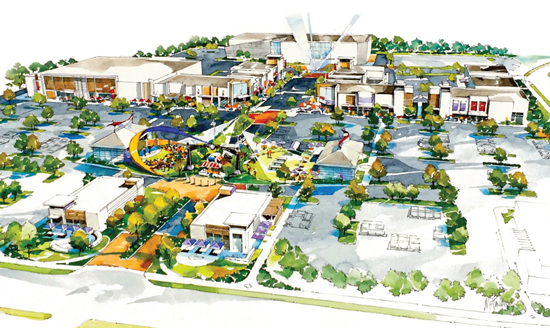 A major culinary-focused commercial development could replace a small neighborhood on the southeast corner of 116th Street and Ikea Way, just east of Interstate 69 in Fishers.
The city of Fishers and developer Thompson Thrift Retail Group on Thursday announced plans for a project called The Yard, which could cost $40 million to $60 million to develop. It would be adjacent to the new Ikea store and near the Topgolf venue that are both scheduled to open next fall.
The 17-acre property where the Springdale Estates neighborhood is located would be redeveloped into a culinary and entertainment center with 10 to 12 lots for restaurants and possibly a combination theater-dining establishment. The development would also include an acre of green space and up to two buildings totaling 3,000 square feet that would be used for shared culinary space to incubate new businesses, similar to Launch Fishers.
Thompson Thrift has purchase agreements for 28 homes in the neighborhood and would raze them to make way for the development. Homes in Springdale Estates were built from 1963 to 1992, with one section constructed mostly in the mid-1960s to mid-1970s and another section primarily built in the mid-1980s.
As part of the deal with Thompson Thrift, Fishers would create a tax-increment financing district around the property, which is not currently part of the city. The land would be annexed and rezoned for the project.
The city would provide about $7 million in TIF-backed bonds for the development to help with infrastructure improvements. Impact fees would also be waived, but Fadness said the estimate for those costs is still unknown because the layout of the development could change depending on which businesses decide to locate there.
Under an agreement with the developer, the city would lease the 3,000 square feet of shared culinary space for $1 per year for 20 years. It would then use the space to create an entrepreneurial atmosphere for the culinary industry.
"That space is really going to be like Launch Fishers, but for the culinary arts, and we're still thinking through what that model looks like," Fishers Mayor Scott Fadness said. "I'm a bit of a sponge at this point. … This is an industry I know literally nothing about."
He said it could be similar to a restaurant concept or designed more like a market. Users would pay a fee to locate or work there, similar to memberships at Launch Fishers.
Patrick Tamm, president and CEO of the Indiana Restaurant & Lodging Association, said the development has the potential to become a restaurant destination, similar to Mass Ave or Fountain Square.
Tamm, who is helping the city develop the culinary shared-space concept, said one of the challenges for new restaurants in Fishers has been high rent, but the incubator space could help solve that problem.
"As communities look to grow newer—not necessarily startups, but newer—concepts and try to foster smaller restaurant growth, overhead costs are an immediate stopper," Tamm said.
Fadness said he thinks having a vibrant culinary scene is now just as vital to economic development as having a trail system.
"It is an essential component of your economic development strategy, and if you don't have it, I think it will be noticed," Fadness said.
The Fishers City Council is expected to consider the rezoning and annexation request and the economic development agreement at its meeting Monday.
If the council approves the deal, the property acquisition could be complete by March and construction could begin next year.
"They feel pretty bullish about their ability to do this fairly quickly," Fadness said of Thompson Thrift. The company's other projects include Fishers Marketplace, Geist Landing of Fishers and Cool Creek Village in Westfield.
The overall idea is to provide more dining options for residents and future visitors of Ikea and Topgolf.
"When I was running for office, the No. 1 complaint I heard from residents was not about taxes or safety or anything like that," Fadness said. "What I would always hear about is, 'We want more restaurants in our community.' That was No. 1 on the wish list."
Please enable JavaScript to view this content.