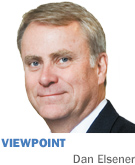 Over the last seven years, the number of teaching licenses issued in Indiana has declined 33 percent.

Only 50 percent of teachers remain in the field more than five years.

Nationally, teacher turnover costs are estimated to average as high as $20,000 per teacher, with district costs in settings such as Chicago Public Schools reaching $98 million annually, or more than $240 per student.

Specifically, within Indiana, estimates of teacher turnover costs range from $4,800 to $10,500 per teacher.

The National Commission on Teaching & America's Future estimates that the costs of hiring underprepared teachers can amount to approximately $6,000 per teacher.

Any drive to improve our nation's schools and education system begins with understanding why people enter collegiate schools of education, why they want to dedicate their lives to be teachers and leaders, and why, in too many cases, teachers decide to leave their profession.

Everyone reading this column has benefited from the impact of a remarkable teacher. As a former teacher, principal and superintendent, I know the tremendous effect strong, inspiring leadership in the classroom can have not just on students, but on an entire community and beyond.

Yet there is probably not a single person who believes our education system is where it needs to be to compete in the global marketplace. In nearly every measurable category, the United States ranks about average, and behind countries that don't nearly have our economic impact in the world.

At the Statehouse last month, Marian University announced a bold initiative: the Educators College. Surrounded by government officials, K-12 education experts and prominent business leaders, we made a commitment to reinvent how we prepare teachers for a career in education.

Marian is pairing this vibrant new school with the state's Next Generation Hoosier Educators Scholarship program. Passed by the General Assembly this spring, these scholarships provide up to $7,500 per year to 200 high-achieving students who enroll in schools of education and accept teaching positions in Indiana upon graduation.

We are augmenting this program by pledging that as many as 25 students who receive the scholarship will also receive supplemental financial aid from Marian University that covers their remaining tuition balance.

Additionally, if the Next Generation Scholarship student is in Indiana's 21st Century Scholars program, Marian University will also cover the cost of that student's room and board.

Already being compared to similar programs at Harvard University and New York University, our Educators College will offer an innovative and rigorous curriculum and include a one-year residency program at a K-12 public, charter or parochial school. Students will also have the opportunity to earn a bachelor's and master's degree (within four or five years, depending on the credits they bring with them or earn in the summer).

We are also emphasizing instruction in underserved areas such as special education, STEM courses, and English as a new language. Indiana's schools are starved for teachers who have extensive training in these critical, high-need areas.

At Marian, if we expect more from our education students, we must be prepared for them to expect more from us. We will make every effort to prepare them for what we know is in their heart—a lasting and meaningful commitment to serve the children in neighborhoods all across this great country.

__________

Elsener is president of Marian University and a former member of the State Board of Education.