For organizers, the annual Broad Ripple Art Fair is always a nail-biter.
The mid-May event, which draws upward
of 20,000 people, can account for 10 percent or more of the Indianapolis Art Center's annual revenue. Yet its success
depends on weather and sponsors.
After 38 years, the Art Center staff has learned to live with the uncertainty
of weather, Marketing Director Lisa DeHayes said. But this year, corporate sponsors were also in question.
"We
weren't sure with the economy what was going to happen," DeHayes said. "It is such a major part of our budget.
We couldn't not do it."
Fortunately for the Art Center, sponsors including Fifth Third Bank and OneAmerica
came through with about $75,000.
Other fair organizers have been less fortunate. Both locally and nationwide,
shows have been canceled because of a dearth of sponsors, or participating artists.
"Many in the art-show
world are becoming very creative to keep their shows alive," said Teresa Saborsky, vice chairwoman of the National Association
of Independent Artists, a volunteer-run organization that represents artists and art shows.
"Corners are
being cut, but they're still trying to maintain quality," said Saborsky, who lives near Louisville.
At least two local groups, Storytelling Arts of Indiana and the Irvington Guild of Artists, canceled their events this
year. The Hoosier Storytelling Festival, typically held in September, was called off in April after the not-for-profit Storytelling
Arts realized a drop in grant funding would make it impossible to absorb a loss.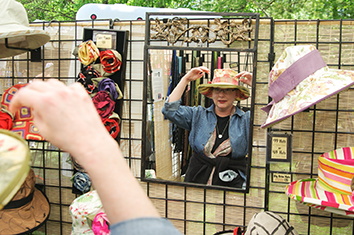 The Indianapolis Art Center's
Broad Ripple Art Fair made more than $300,000 this year.(Photo/Indianapolis Art Center)
The Irvington artists cited
the "economic climate" in canceling this year's Walk in the Park Art Fair at Ellenberger Park. Representatives
couldn't be reached for comment. A post on the guild's blog said the cancellation was necessary to maintain the
fair's high quality. The guild is focusing instead on bringing the fair back in August 2010.
Elsewhere,
the 21-year-old Midwest Salute to the Arts in Fairview Heights, Ill., outside St. Louis, canceled its fine arts and craft
show. The American Craft Council, which holds shows in several major cities, dropped events in Charlotte, N.C., and Sarasota,
Fla.
Where shows did go on, organizers are gushing with thanks. "The storm passed us over, and we feel
so grateful," said DeHayes of the Indianapolis Art Center.
DeHayes was referring to the economic storm.
The weather itself actually helped drive attendance down 8.7 percent, to fewer than 19,000. Nevertheless, DeHayes said, "We're
actually very happy with the results."
The fair, which charges admission of $15 at the gate or $12 in advance,
netted more than $300,000 for the art center.
Artists still coming
While attracting
sponsors has been difficult, local fair organizers say interest from artists remained strong.
The 54-year-old
Talbot Street Art Fair, held in June, is free to the public and relies entirely on artists' booth fees. The organizers
are an all-volunteer team of artists.
"I worried when I saw my stocks going down the tubes," said
co-chairwoman Joan Kisner. "I thought, 'Oh, we may not have any applications.'"
As it
turned out, Kisner said there were plenty of applications to fill 240 artist booths. Attendance was strong as usual—police
estimate a crowd of 60,000 over the two days, she said.
The real surprise was that fair-goers were buying. "It
was actually my best year ever," said Kisner, a jewelry maker who sells pieces for $20 to $150.
Kisner
thinks the fact that the Talbot Street fair doesn't charge admission made people more willing to buy.
For the most part, however, artists on the fair circuit have low expectations these days.
"It's been
kind of a down year," Indianapolis painter Emma Overman said.
She was accepted by the Broad Ripple fair
for the first time this year, and the timing was ideal. Showing her work at Broad Ripple meant she cold reach a large, enthusiastic
audience without paying for travel.
Overman said she amassed a long list of e-mail addresses from potential
clients. "It's also about the exposure," she said. "It's a matter of showing, and showing and
showing."
Weak sales
The 150 Native American artists who gather for the Indian
Market and Festival at the Eiteljorg Museum of American Indians and Western Art weren't surprised at weak sales, Festival
Manager Jaq Nigg said.
Indian Market's traditional audience is buyers of high-end art, and they aren't
opening their wallets much these days. Nigg said the museum has tried to draw more families by adding activities and offering
free admission for kids. Tickets cost $10 at the gate or $8 in advance, and include museum admission.
The festival
has plenty of competition in the family-friendly category. This year that included the opening of a King Tut exhibit at the
Children's Museum of Indianapolis.
Despite ideal weather on June 27 and 28, attendance at Indian Market
hit an all-time low of fewer than 6,000.
"We were down about 1,000 people," Nigg said. "For
our event size, it is a big deal. It makes you wonder, is it the event, or is it the economy?"
The museum
spends about $150,000 to stage the two-day fair and host artists representing 60 tribes. With the help of small sponsorships
and a tight budget, Nigg said the fair netted about $12,000, which exceeded a conservative goal of $5,000.
The
Eiteljorg doesn't count on Indian Market as a fundraiser, Nigg said. It's more like a public relations tool.
"Part of our tagline right now is 'telling America's stories,'" Nigg said. "This
is a good opportunity for us to step back and let these Native American artists tell their own stories."
Other long-running fairs exist to raise money for the local arts scene.
The Penrod Society's annual fair
typically draws 25,000 and nets more than $100,000. The society distributes the money to local arts groups and a scholarship
program.
The Talbot Street fair directs its proceeds to local colleges and artists, supporting events that are
free and open to the public. This year the group expects to make grants and awards of about $13,000.
 These
relatively small sums take on more importance as other sources of arts funding dry up.
The Harrison Center for
the Arts, for example, relies on small and mid-sized grants, and received $1,000 to $2,000 from the Penrod Society. "The
great thing about grants like Penrod, it just shows a broad base of support for the organization," Director Joanna Taft
said.
The Penrod Society is recovering from an odd turn of events. A former society treasurer and local accountant
was accused of wiping out the society's bank account after last year's fair, and before it could distribute its
grants and scholarships.
Indianapolis Metropolitan Police are still investigating, but no charges have been filed.
The Penrod Arts Fair will be Sept. 12 at the Indianapolis Museum of Art. Fair Chairman Bill Leppert said the society
decided to go after title sponsors for the first time this year, but had limited success.
Penrod also broadened
its advertising to artists to ensure that its 350 booths would be full.
"I'm sure there's
some people we've lost due to the economy," Leppert said.•
Please enable JavaScript to view this content.