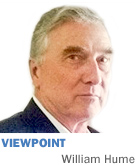 The Indy 500 will reach a higher level of economic impact and competitive excitement if the thrill of the past—arguably the 1960s—is recaptured.
There was an excitement in the air during that decade, with urban expansion, vibrant industry and American wealth generated as never before. A fantastic array of race cars was designed, engineered and built by creative innovators such as Chapman, Watson, Granatelli, Broadley, Foyt and more. The Speedway was sold out just for qualifications. Race day held national and worldwide attention that has not been duplicated since.
Diversity is key: more than one designated chassis, more than just two similar engine choices. Race fans deserve variety in this incredible spectacle. Drivers from NASCAR and Formula One should enter, qualify and race in the 500: a war of the world's greatest drivers—wheel-to-wheel on racing-tire choices from Firestone, Goodyear, Michelin and Pirelli. Think of it as a blood transfusion, an input of new energy, fueling one of automotive life's most exotic visual excitements in an unmatched sensory experience … the Indianapolis 500.
An expansion of enterprise, industrial and mechanical technology, from many international automotive manufacturers. This was the original rule followed by the founders of the Indianapolis Motor Speedway.
Economic impact is generated by inviting more players. Automotive industrial giants Ford Motor Co., Mercedes-Benz, Audi and Toyota have unmatched wealth waiting to be spent on race engine development for teams at the Speedway.
Chassis builders like McLaren, Lotus, Dan Gurney's All American Racers, and Penske would give the excellent Dallara chassis a run for it. Hundreds of millions in wealth from these automotive contestants would flood into Indianapolis with new technical and manufacturing centers.
Those iconic race legends would add focus from about 6 billion people, or most of the world's population, who follow their brands. Speedway tickets for the next year would sell out the day after the race—200,000 additional seats with a new demographic of racing enthusiasts would need to be built at the Speedway. Business expansion such as this would infuse an economic base creating thousands of tech-oriented jobs in Indianapolis.
Competitive excitement at its highest level is fueled by reaching all race fans. Limiting engine choice at the 500 with just Honda and Chevy negates an immense audience of Ford followers. The Italian chassis design and builder Dallara have brought safe, high-performance race cars to Indy. Imagine the extra fan interest in race cars from Mercedes-Benz or Porsche. The cars can be the stars.
During the 1960s, Indianapolis had a grid of fantastic machines like Andy Granatelli's jet turbine car with Parnelli Jones as pilot, Lotus/Ford's 38 driven by Jimmy Clark, a 900-horsepower Novi supercharged V8 with Bobby Unser at the wheel. 2016's Indy cars don't fire the imagination that those did.
Let's go "back to the future." Use that focus of corporate enthusiasm during this time. Then create business at the Speedway as it should have been during the '70s, '80s, '90s to this era and to the next 100 years of Indy 500 racing.•
__________
Hume writes about transportation and his love for automotive competition. Email him at humewilliam@hotmail.com.
Please enable JavaScript to view this content.