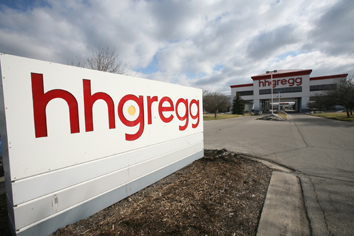 Struggling retailer HHGregg Inc. warned investors Monday that it is expecting another tough quarter.
The Indianapolis-based company released preliminary figures for the fiscal third quarter ended Dec. 31 that showed estimated sales of $453 million, down 24 percent from the $593 million it reported in the third quarter of the previous year.
HHGregg released the preliminary results after the market closed. Shares fell 24 percent in after-hours trading, to $1 each, after closing Monday at $1.31.
Comparable store sales—an important sales category for retailers that measures revenue at stores open for at least 14 months—decreased 22 percent.
Same-store sales of consumer electronics plummeted 39 percent, while appliance sales slipped 4 percent and home-products sales dropped 9 percent.
"During the quarter, we were challenged by the competitive pressures in the market, specifically in consumer electronics as it is a larger mix of our business during the holidays," HHGregg CEO Robert Riesbeck said in a written statement. "The consumer electronics category was very competitive again this holiday season. We made the strategic decision to compete less in this category, particularly at the entry-level price points. Going forward, we will continue our focus on our appliance and home-products categories and will continue to reposition our consumer electronics business to focus on the premium models."
HHGregg said it also expects to take a non-cash asset-impairment charge in the range of $7 million to $12 million related to "current trends in certain under-performing markets and the lack of visibility to the recoverability of the assets associated with those locations."
The company said it would report official quarterly results Jan. 26. The retailer has failed to turn a profit in its previous 12 quarters.
Please enable JavaScript to view this content.