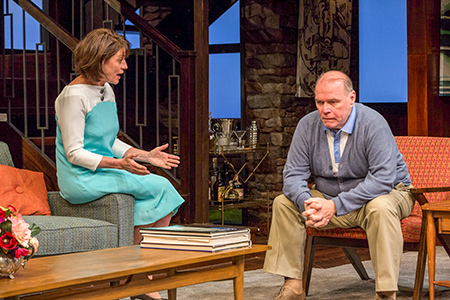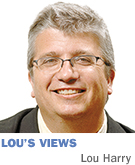 Praised for its tasteful treatment of the subject of interracial romance and criticized for its glossy simplification of complex issues, the film version of "Guess Who's Coming to Dinner" was a hit in 1967.
In 2017, on stage at the Indiana Repertory Theatre (through Feb. 4) and with dialogue taken almost completely from the William Rose original script, Todd Kreidler's theatrical adaptation proves even safer.
 
Which is not to say it isn't entertaining. It is. Warm, funny, emotional and handsomely designed, it's a smile-inducer that, on my visit, generated both laughs and tears from an enthusiastic audience.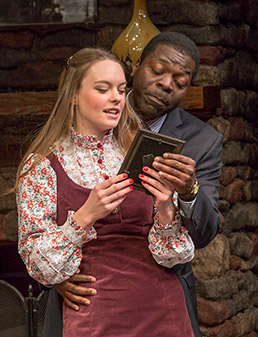 In both versions, "Guess Who's Coming to Dinner" is less about the catalytic romance and more about the testing of the beliefs of a pair of white, liberal parents. Matt and Christina Drayton are thrown a curve ball with the surprise return of their daughter, Joanna (Annie Munch), from Hawaii. Next surprise: She's in love. Next: She's getting married. The kicker: He's black—a factor Joanna didn't think would be a problem for her equality-spouting mom and pop.
To stack the deck, both film and play offer a suitor so flawless that racism—and concerns about the racism of others—could be the only reasons to object to him.
OK, so the man, John Prentice (Chiké Johnson), is a decade older than Joanna. But he's polite. He's sensitive. He's well-dressed. He's waiting until marriage for sex (even though Joanna is ready and willing). And not only is he a doctor, but he's a famous doctor dedicated to saving lives on an international scale.
You'd practically have to be David Duke or Jesse Helms to object.
Today, at least. Lest we forget, times—in some regard, at least—have changed.
Some historical perspective. When the film was made, 17 states still had anti-miscegenation laws and Loving v. Virginia was heading for the Supreme Court. The enlightened might find it easy to look down on such well-meaning, popular projects. But just as "Fiddler on the Roof" had an impact on anti-Semitism and "La Cage aux Folles" made the business class a bit more comfortable with homosexual relations, "Guess Who's Coming to Dinner" did help legitimize mixed-race marriages for mainstream audiences.
While some audiences in 1967 might have raised an eyebrow at this "sensitive" material (Variety's review warned that "Certain Dixie areas may not dig the film, sight-unseen…"), today's theatergoers are more likely to ask "Yes, and…?"
The play still has the movie's clunky plot devices. It's difficult to believe that, even pre-Facebook, the loving couple would keep their parents in the dark about the obvious issue. And Joanna's invitation of John's parents to the titular feast—an action she keeps secret not only from her mother and father but also from John—is a stretch that borders on cruel. The doctor's insistence that the marriage will be off if not blessed by the parents—a deal he doesn't tell his fiancee about—is as unconscionable now as it must have been in 1967. Meanwhile, the added, "We have to leave tonight" urgency still feels like a product of the writer, not of the characters.
And "Guess" doesn't really leave one guessing about much. Even if you didn't see the film, it's clear from the get-go that the play is more about comfort than confrontation and is unlikely to cause audiences to rethink their attitudes on race or explore thorny issues under that umbrella
But the play's—and this production's—pleasures are in the details. On stage, "Guess Who's Coming to Dinner" effectively reminds us of the joy of watching adults talking to one another. I don't mean that facetiously. I'm all for envelope-pushing work, but sometimes there's pleasure within the envelope as well. Here, the dialogue is smart and witty, the humanity of the characters largely at the forefront, and reactions and silences as important as dialogue. And it's funny.
The movie lends itself to the stage. Largely set in one house (smartly created by top-of-his-game scenic designer Robert M. Koharchik) and with a climactic five-minute speech the likes of which you'd be hard-pressed to find in a contemporary movie, "Guess Who's Coming to Dinner" is delivered in a slick, attractive, affirming package.
And you'd be hard-pressed to find a better ensemble cast, with stand-out work particularly from Craig Spidle and Cleavant Derricks as the respective fathers. (Theater fans might recall Derricks as the original James Thunder Early in Broadway's "Dreamgirls." For me, he was a saving grace in Bob Fosse's final musical "Big Deal.") Fellow Broadway vet Lynda Gravatt ("King Hedley II," "Doubt") as housekeeper Matilda Binks, and Mark Goetzinger as family friend and adviser Monsignor Ryan both manage to dodge potential stereotypes by treating their characters—a feisty take-no-guff maid and a jovial Irish priest with a taste for drink—as multi-dimensional human beings. And I found myself genuinely rooting for a happy life for effervescent Joanna and thoughtful John.
Still, leaving the theater, I couldn't help but wish the conversation on race could go deeper. "You still think of yourself as a colored man. I think of myself as a man," John challenges his father at one key point. And the play seems clearly on the side of the son.
But the statement seems a glib simplification of a complex cultural wrestling match that is still at the forefront today. Given the inequalities that still exist, should John be angry that his father is aware of the color of his own skin—and what that means in an unjust society?•
__________
This column appears weekly. Send informat ion on upcoming arts and entertainment events to lharry@ibj.com.
Please enable JavaScript to view this content.