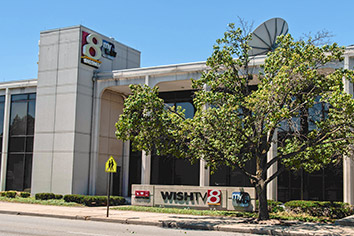 WISH-TV Channel 8's new general manager, Randy Ingram, says he's no stranger to Indianapolis—or to the experience of leading a station through major changes.
He arrives at a significant juncture for WISH, which lost its national network affiliation with CBS two years ago and suffered ratings declines for some of local news broadcasts in the following year. More recently, several of WISH's on-air personalities have either left for other stations or retired.
Ingram's first day at WISH was Wednesday. He comes to the job from WBTW-TV in Myrtle Beach, South Carolina, where he had served as general manager since 2012. 
Over the course of a 35-year career, he has held a variety of news, sales, digital media and strategic planning roles at television stations in the Midwest and Southeast.
His main focus in the new job, Ingram told IBJ, is "the challenge of keeping WISH going in the right direction after the affiliation change."
In January 2015, CBS switched its local affiliation from WISH-TV to WTTV-TV Channel 4. WISH is now affiliated with the CW network.
It's a familiar scenario to Ingram, whose career has included time at several other stations that went through affiliation changes.
He was a station operations manager and an executive producer at WFLD-TV in Chicago when that station became a Fox affiliate in the 1980s.
From 2005 to 2010, he held various positions at a Spartanburg, South Carolina-based station during a period when it changed its call letters (from WASV-TV to WYCW-TV) and its network affiliation (from UPN to CW).
At WISH, he said, the station's ongoing success will lie in its ability to be original.
"We've got to be different from everybody else," he said. "We've got lots of opportunity, because we're not tied to all of the daytime programming that CBS used to have."
Ingram replaces former WISH general manager Les Vann, who departed the station several months ago after two years in that position.
The station has also lost several other newsroom staffers in recent months, including meteorologists Eboni Deon, who left for a job at WFTV-TV in Orlando, Florida, and Robb Ellis, who moved to Columbia, South Carolina's NBC affiliate, and longtime political reporter Jim Shella, who retired in December.
While at WISH, Vann increased local news coverage time in 2015 by 42 percent, to 64.5 hours a week. To fill in the gap left by the loss of CBS programming, Vann also brought in CW syndicated content and a variety of sports programming.
Ratings for the channel's newscasts declined nearly across the board between November 2014 to November 2015. However, several other stations also lost viewers in a variety of time slots, likely reflecting the expansion of the local TV news landscape from four stations to five. (WTTV previously did not have a major local news presence.)
Ingram said he has ideas for things he wants to do at WISH. But he declined on Monday to share specifics because he hadn't yet met with his immediate supervisors at Nexstar, WISH's corporate parent.
"We should be meeting hopefully later this week or next week to finalize our plans. I'm not at liberty yet to discuss our plans," he said.
WISH joined Nexstar's lineup of stations last week. The station previously was owned by Virginia-based Media General Inc. On Jan. 17, Texas-based Nexstar completed its previously announced acquisition of Media General.
Several of the other stations on Ingram's resume are also Nexstar properties: WBTW-TV in Charleston, South Carolina; WSAV-TV in Savannah, Georgia, and WRBL-TV in Columbus, Georgia.
Ingram started his career in the sales department at WNDY-TV, an Indianapolis station which is now a sister station to WISH.
Most of Ingram's relatives still live in this area, he said, so moving back to Indianapolis was "like coming home" for him. 
Ingram will report to Brian Jones, Nexstar's chief operating officer.
In a news release Jones said, in part, "Randy is a well-respected leader who has consistently exceeded economic and operational goals by developing creative programming strategies and unique marketing concepts while elevating the level of service provided to local viewers, businesses and community organizations."
IBJ was unable to reach Jones by phone Monday morning for comment.
Please enable JavaScript to view this content.