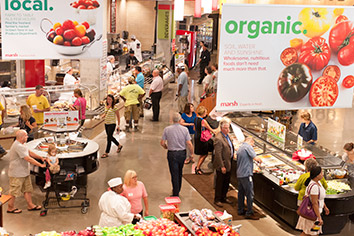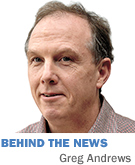 Don Marsh ran Marsh Supermarkets as though it was awash in cash, with ubiquitous advertising and heavy spending on travel and other perks. But even in the final years before the Marsh family sold the publicly traded chain to the private equity firm Sun Capital Partners in 2006, finances were strained.
Just a few months after becoming chief financial officer in 2005 John Elbin had the startling realization that the company had reported negative free cash flow for nine consecutive years—a trend masked by the sale of property holdings.
"Essentially, the company was being liquidated over the previous 10 years by selling off real estate to fund the negative free cash flow and pay out the dividend," Elbin later said in a deposition.
"So the company was being self-liquidated. And when the real estate ran out … they would hit a brick wall, the company would crash, and go into bankruptcy."
That doomsday scenario didn't happen because Florida-based Sun Capital Partners swooped in to buy the chain, anteing up $88 million in cash and assuming $237 million in debt. Sun cast itself as a retail wizard of sorts, writing in a letter during the courtship that its "track record as a private equity firm focused on operational turnarounds is second to none, particularly in the retail sector."
That ancient history suddenly seems relevant again now that Marsh—still under Sun's ownership—is again showing signs of financial woe. And now Sun, which early on raised tens of millions of dollars through sale-leasebacks of store locations and by selling off surplus real estate, might have little to no property left to sell.
IBJ reported in mid-January that Marsh had amassed more than $200,000 in unpaid bills—a combination of past-due rent and unpaid contractor invoices and property taxes. Since then, the situation has only gotten worse, with lawsuits filed by landlords for a Shelbyville store shuttered in 2011, a Post Road store that's still in business, and by mechanical and electrical contractor DEEM LLC.
In response to inquiries from IBJ about the unpaid bills, Marsh issued a statement that did not directly address the topic. "Despite tough competition from large, out-of-state companies, Marsh remains dedicated to fulfiling our commitment to the loyal customers and Indiana communities we serve," the statement said.
What's clear is that Sun has run a tighter ship than the Marsh family, which at one time had nine family members on the payroll collectively receiving $3.1 million in annual compensation. But the grocery business—never an easy way to make a buck—has become even more brutal in recent years, as upscale grocers like Whole Foods pick off high-end consumers and Walmart, Kroger and Meijer use their scale and buying power to win over price-sensitive shoppers.
Marsh's competitive struggles are reflected in its steady stream of store closures. As rivals have bulked up, Marsh under Sun's ownership has retreated, shrinking its store count from 120 to 72.
Without a doubt, Sun, with more than $9 billion in capital under management, has the financial firepower to rescue Marsh if it chooses. It bought Marsh with Sun Capital Partners IV, which raised $1.5 billion and was boasting an internal rate of return of 6.3 percent as of late 2013, according to peHUB.com. But private equity firms, like investors of any stripe, aren't prone to put in additional cash unless they're confident they'll earn a return on it.
Sun made that point abundantly clear with the mall chain The Limited, which it shut down in January, writing the value to zero. Despite the unfortunate ending, Sun's investors had plenty to celebrate. Since the private equity firm bought majority ownership in 2007, it has made 1.8 times its $50 million investment, thanks to dividends and distributions over the years, Reuters reported.
Private equity investors in Indianapolis suspect Sun already has made a tidy profit on Marsh, as a result of dividends and windfalls from selling real estate. If the company just kept dividends level with where they were before the family suspended them right before the sale, Sun would have received more than $40 million.
Meanwhile, the future of the grocery chain itself is bleak, said veteran grocery analyst David Livingston. He said Sun under-invested in the stores, and now Marsh is "too far gone" to attract a buyout offer from a competing chain.
"They are in a distress situation because they have just declined," said Livingston, who runs DJL Research in Waukesha, Wisconsin. "If they are having cash flow problems, it is just a matter of time before we see a lot of store closings."•
Please enable JavaScript to view this content.