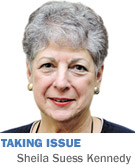 In his first week in the White House, Donald Trump exceeded my expectations—and not in a good way.

Aside from his self-aggrandizing and fact-free fixations on the size of the crowds at his inauguration, and his insistence that "illegal votes" were responsible for his 2.85 million popular-vote deficit, Mr. "I know better than everyone about everything" signed a flurry of executive orders, without bothering to investigate their consequences, constitutionality or enforceability.

I will leave it to others to address his anti-Muslim, anti-refugee diktats (although I will note that when even Dick Cheney calls an action un-American, it's pretty far out there); they're embarrassing, but unlikely to survive court challenge. Instead, let's look at the damage done by his withdrawal from the Trans-Pacific Partnership. That withdrawal was based upon a belief embraced more by the left than by the right—a conviction that trade deals are responsible for the loss of American jobs.

The United States lost 5.6 million manufacturing jobs from 2000 to 2010. But according to a study by the Center for Business and Economic Research at Ball State University, 85 percent of these jobs losses were actually attributable to technological change—largely automation—rather than international trade. Only 13 percent of American job losses can be attributed to trade.

Ironically, Hoosiers will pay some $7 million in tax breaks—pursuant to the much-hyped "deal" Trump negotiated with Carrier—to see this dynamic play out here. According to the New York Times: "When Greg Hayes, the chief executive of United Technologies, agreed to invest $16 million in one of its Carrier factories as part of a Trump deal to keep some jobs in Indiana instead of moving them to Mexico, he said the money would go toward automation."

"What that ultimately means is, there will be fewer jobs," he said on CNBC.

We sometimes forget that trade also creates jobs.

According to the Indiana Business Research Center at Indiana University, in 2015, Indiana had 152,700 workers employed by foreign-owned firms. (Think of the Honda plant in Greensburg, the Isuzu plant in Lafayette, etc.) Of the jobs created by foreign companies in Indiana, 97,900 were manufacturing jobs that accounted for 3.1 percent of the state's private employment.

Labor economists maintain that we can ease the transition for workers whose jobs have been displaced by robots through retraining programs, stronger unions, more public-sector jobs, a higher minimum wage, a bigger earned-income tax credit and—going forward—better education. Determining the merits of any of those proposals, however, requires data and expertise and careful policymaking—not the sort of flashy, impetuous policymaking favored by the current occupant of the White House.

Worse, Trump's reckless decision has been a gift to China. According to Marshall Meyer, a China expert and Wharton business school emeritus professor of management, the Chinese are celebrating, because our exit from the TPP allows China to have much greater influence in the economies of not just Southeast Asia, but also ultimately East Africa and even parts of Europe. "The strategic implication of this is that we are allowing China to execute its grand strategy to become the dominant power of the Eurasian continent," Meyer said.

Serious lawmakers had raised concerns over particulars of the TPP. If, after evaluating those concerns and familiarizing himself with the strategic purposes of the pact, Trump had renegotiated terms believed disadvantageous to the United States, that would have been entirely appropriate.

But this president doesn't just fail to "connect the dots." He doesn't know there are dots.•

__________

Kennedy is a professor of law and public policy at the School of Public and Environmental Affairs at IUPUI. She can be reached at skennedy@ibj.com.