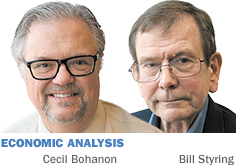 Manufacturing is riding high in political esteem these days. "Getting our manufacturing jobs back from (China? Mexico? Fill in the blank)" is a primo policy objective coming from Washington, D.C. You'd think this would be great for Indiana. Manufacturing is a bigger share of Indiana's economy than in any other state.
Before we Hoosiers get too giddy over manufacturing uber alles, remember good economists hunt for hidden consequences. One wrong assumption is that U.S. manufacturing is in decline. Not so. Manufacturing is about 13 percent of the U.S. economy today, a number that's held steady since 1960. The composition has changed. The U.S. makes less labor-intensive stuff like textiles and garments but more capital-intensive products like gene sequencers, computer products, robotic surgical equipment and aircraft.
So what makes politicians think manufacturing is in the dumpster? We use fewer workers (voters) to produce all this stuff. Manufacturing productivity is up sixfold since the 1960s. This is good for consumers. Productivity is what drives higher living standards.
It's a bad thing if you are one of those no-longer-needed workers (think Carrier). Manufacturing employment as a share of total employment is down from 25 percent to less than 10 percent. It has fallen under every U.S. president since Truman. Manufacturing employment fell after NAFTA, but it was falling relentlessly for 40 years before NAFTA. Technology, not relocations outside the United States, drives most of the decline.
We can get into serious trouble trying to swim against this tide. Trade restrictions designed to protect U.S. businesses provoke retaliation. This is the political "market" at work. Trade barriers are not a costless one-way street. Other nations typically retaliate against U.S. agricultural exports first. Some 46 percent of our soybeans, nearly half our corn and a big chunk of pork are shipped elsewhere. Most readers of this column can drive five miles and see corn and soybean fields. Fewer imports coming in also means fewer agricultural exports going out.
It's not clear if measures intended to make imports more expensive even work. Markets have a funny way of anticipating and working around restraints to trade. Propose a 20 percent tax on Mexican imports to make them 20 percent more expensive? The peso/dollar exchange rate drops 20 percent. It takes 20 percent fewer dollars to buy the same number of pesos. Just talking about import taxes has already made Mexican imports 20 percent cheaper.
The famous economist Milton Friedman always taught to look for unintended consequences. Wise man.•
__________
Bohanon is a professor of economics at Ball State University. Styring is an economist and independent researcher. Both also blog at INforefront.com. Send comments to [email protected]
Please enable JavaScript to view this content.