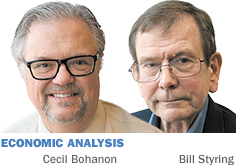 Our Legislature is debating whether to remove the requirement that hair braiders obtain a cosmetology license to practice their craft. A better question is why the General Assembly was hare-brained enough to impose this requirement in the first place.
In 1997, our lawmakers decided hair braiders needed beauty school certification and a state cosmetology license before legally touching a customer's hair. Getting these isn't cheap or easy. Beauty school typically takes two years, 1,500 classroom hours and tuition ranging up to $20,000.
The cosmetology-licensing requirement is also largely senseless for braiders. Most of that training is for European hairstyles that can involve harsh chemicals, sharp scissors or heat treatment. Hair braiding involves none of these. There is no conceivable health or safety case that braid customers need "protecting" from bad braiders.
Economists have extensively studied professional licensing. The near-unanimous finding: The clamor for licensing seldom comes from aggrieved consumers. It usually comes from the industry itself. Licensing cuts down on the competition. In one study, the Institute for Justice looked at 10 states, over a seven-year period, where hair braiding required only a simple hair-braiding license, not a cosmetology license. Of 103 complaints, only one was from a consumer. The rest were from other practitioners, and only four involved an alleged unsafe or unsanitary practice.
Licensing does stifle competition. The Justice study found that, in Mississippi, where braiders need only to register with the state, 1,245 were so registered in 2012. In neighboring and more populous Louisiana, where braiders need 500 training hours for a license, 32 were registered.
What makes the case for licensing hair braiders so perverse is that would-be braiders are overwhelmingly women of African-American descent. Braiding is especially attractive for naturally coiled hair. West African women have been doing it for almost 5,000 years. We will not venture to guess how many of our fellow Hoosiers could be earning a respectable living if this profession were deregulated. Based on the experience in other states, the number is not trivial.
One of the great features of a system of free enterprise is that it allows persons with no great wealth or advanced educational opportunities to better themselves by serving others. This should be the birthright of all Americans, regardless of skin color. The Indiana House has voted to eliminate the cosmetology requirement. We can think of no reason from equity or good economics why the Senate should not follow suit.•
__________
Bohanon is a professor of economics at Ball State University. Styring is an economist and independent researcher. Both also blog at INforefront.com. Send comments to ibjedit@ibj.com.
Please enable JavaScript to view this content.