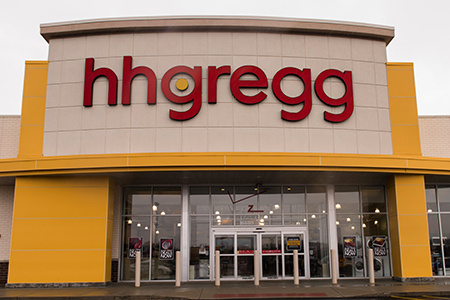 Indianapolis-based HHGregg Inc., the 61-year-old seller of appliances and electronics, is preparing to file for bankruptcy as it grapples with an ongoing slump in sales, according to people familiar with the matter.
The filing may come as soon as next month, said the people, who asked not to be identified because the matter isn't public. The retailer announced last week that it was pursuing a range of strategic and financial options with the help of outside advisers. HHGregg is still seeking an out-of-court solution that would allow it to stave off Chapter 11 reorganization, one of the people said.
HHGregg, which has lost money for 13 straight quarters, would join retailers such as Limited Stores and Wet Seal in seeking bankruptcy protection this year. The brick-and-mortar chains are victims of shifting consumer spending patterns, with more money headed to e-commerce and experience rather than traditional shopping centers.
At HHGregg, particularly weak holiday sales have pushed the retailer closer to the edge. Its quarterly revenue for the period ended Dec. 31 plunged 24 percent. In light of the challenges, the company said on Feb. 15 that it hired Stifel, Nicolaus & Co. and Miller Buckfire & Co. to help find ways to improve liquidity and stem the red ink.
CEO Robert Riesbeck, while declining to comment directly on a possible bankruptcy, said, "We're focused on continuing to execute our business strategy, as planned, and returning this company to profitability."
Stock drop
The shares closed at 39 cents Thursday and have lost almost three-quarters of their value this year. Earlier this month, the company received notice from the New York Stock Exchange for failing to meet the minimum listing price requirement. The company was warned that it could be delisted.
The chain, which has 220 stores, is facing more competition from online outlets and traditional retailers. J.C. Penney Co., for instance, pushed onto HHGregg's turf last year by adding appliances.
The retailer announced Feb. 3 that it had cut about 100 jobs, including 70 at its headquarters, in an effort to save $15 million a year.
Investment information site Debtwire reported earlier this month that HHGregg might need to "renegotiate contracts with its major suppliers this summer if it's unable to turn around its operations." It cited multiple sources familiar with the situation.
The chain's major suppliers are LG, Samsung, Sharp, Sony and Toshiba, according to SEC filings. Debtwire said the suppliers are expected "to shorten payment terms in a move to shore up security that its inventory will be fully paid."
HHGregg as of September 2015 had cash on hand of $35 million and no debt. As of the end of 2016, it had $2 million in cash and had borrowed $30 million of the $94 million available under a line of credit.
Please enable JavaScript to view this content.