The owner of the mostly vacant AT&T building downtown has scrapped its plans to redevelop the 20-story tower and is putting it on the market without an asking price.

Geis Properties, part of Cleveland-area-based Geis Cos., bought the hulking, 558,000-square-foot building for $16.5 million in May 2013 from AT&T. It had planned to convert the first-floor lobby into restaurant and retail space with office tenants above.

The company even rebranded the building at 220 N. Meridian St. as Monument City Center as part of its redevelopment effort, to no avail. A lack of onsite parking proved to be too much of an obstacle to overcome, local office brokers said.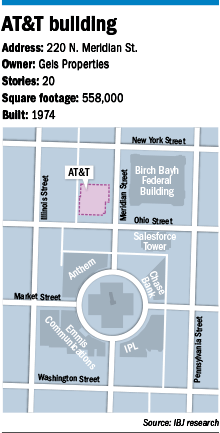 Geis even considered turning the building, constructed in 1974, into apartments or a hotel, the brokers said, before opting to unload it instead.

"They couldn't decide whether they were going to go hotel or office upstairs," said Brian Epstein, a local retail broker who marketed the first-floor space for Geis. "There was definitely interest from a restaurant standpoint."

It's not as though Geis doesn't have experience renovating old buildings. In Cleveland, it bought the Ameritrust complex from Cuyahoga County in 2013 and launched a $170 million project that converted the long-vacant building into a hotel with 104 high-end apartments above.

Company owner Greg Geis didn't return phone calls from IBJ seeking comment on the decision to sell the AT&T building.

John Merrill of the local office of Houston-based Holliday Fenoglio Fowler LP, whom Geis has hired to market the tower, said the company is casting a wide net for potential buyers.

"We're going to market it to developers for potential hotel, residential, mixed-use and, of course, office use," he said. "With Salesforce moving in across the street [in Salesforce Tower], it can drive demand for all those uses, potentially."

The building opened as the headquarters of Indiana Bell, a forerunner of AT&T. AT&T sold it to Geis after sharply scaling back its downtown office space. It still occupies at least two floors in the building.

Merrill is taking the building to market in a bid process that eschews an asking price. It's a common way to shop large office buildings, he said.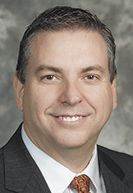 Merrill
HFF marketing materials promote the building's floor-to-ceiling windows, its location a block north of Monument Circle, and the more than 12,100 parking spaces within two blocks of the property.

The flier also points out that floors two through four at the north end of the building can be converted into a parking garage, to solve the onsite parking problem. Geis even went as far as to have plans drawn up to show how it can be done, Merrill said.

"Whoever decides to take that project on, that will be initiative No. 1—to make sure parking is addressed," said Bill Ehret, local managing director of the Avison Young brokerage.

Filling the nearly empty building with office tenants would further improve downtown's vacancy rate, which has fallen from 21.0 percent in 2012 to 17.4 percent at the end of last year, according to Colliers International statistics.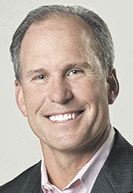 Ehret
The real estate brokerage began counting the AT&T building against downtown vacancy once it sold to Geis and no longer was owner-occupied, said James Winkler, director of market research at the local Colliers office.

Much of downtown's new occupancy can be attributed to tower owners' transforming their properties, flush with new amenities and attractive floor buildouts, to make them more appealing to younger companies. A renovated AT&T building could add to the inventory, Ehret said.

"When you look at it from the street, it doesn't look that bad, with its glass skin," he said. "It's a great location."

The improving downtown office market is attracting out-of-state investors searching for affordable investments outside more expensive, larger cities.

In August 2016, Santa Monica, California-based Hertz Investment Group bought the Salesforce Tower and Circle Building, in addition to PNC Center at 101 W. Washington St., as part of a $416.9 million, four-building acquisition.

Earlier last year, Chicago-based The Hearn Co. paid $40 million for BMO Plaza at 135 N. Pennsylvania St.

Companies increasingly are considering downtown, rather than the suburbs, in part to appeal to millennials, many of whom lease apartments in the multitude of new projects downtown and often prefer urban, walkable settings.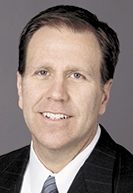 Robinson
Downtown occupancy for Class A apartment buildings remains at a healthy 96.9 percent, despite the market's delivering 3,000 new units in 2016. Another 3,700 are expected to become available this year.

The high occupancy could make the AT&T building attractive to a multifamily developer, or perhaps a hotel brand. Downtown hotel occupancy is roughly 70 percent—the threshold when developers start scouting for new locations.

"It's going to offer somebody prominence and visibility," said John Robinson, a JLL office broker who once marketed the AT&T building for Geis. "It has a Meridian Street address and takes a big chunk of space."

Geis originally hired JLL to market floors two through 14 for office use, with AT&T then occupying floors 15 through 19. The telephone company since has vacated some of the space. The top floor houses three diesel-fueled emergency generators.•