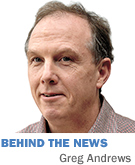 Indianapolis businessman Gary Eyler, who for months has been fighting allegations of fraud related to his test-preparation company, The College Network, has escalated the rancor by failing to show up for his deposition.
The plaintiff in the case, Tennessee-based Southeast Financial Credit Union, sued Eyler and others in 2015, charging they fraudulently restructured the business to thwart creditors and owe more than $13 million on defaulted loans.
Southeast said in a motion for sanctions that a day before the scheduled Feb. 16 deposition in Indianapolis, an attorney for Eyler said he would not be appearing and planned to file for Chapter 7 bankruptcy.
In a court filing, Southeast shot back that intending to file for bankruptcy is not a legitimate basis for missing a deposition.
TCN sold online materials to help students prepare for college-equivalency exams. The credit union, which extended $35 million in loans to 10,000 of its customers, cast the missed deposition as the latest in a history of maneuvers to stay out of reach of creditors.
The credit union's lawsuit takes aim at a 2015 transaction under which TCN was sold to two new Eyler-affiliated entities, Fishers-based Career Learning & Academic Support Services and Las Vegas-based Global Learn—with no compensation paid.
"They are attempting to establish TCN as the 'fall guy' after transferring all assets out of the company then avoid liability by creating the illusion of separateness," Southeast Financial said in a court filing.
In recent months, Eyler's legal team has begun falling by the wayside, apparently for nonpayment of fees. In December, Kroger Gardis & Regas pulled out as counsel for TCN, and a judge at a March hearing will consider Cohen & Malad's motion to withdraw as counsel for Eyler, Career Learning & Academic Support Services and Global Learn.
"Mr. Eyler's flagrant failure to appear at the deposition indicates his intention to cease defending the litigation, with hopes of wiping his hands clean of any liability," attorneys for Southeast wrote in their Feb. 16 motion for sanctions.
"This mirrors the course of action Eyler previously orchestrated on behalf of TCN through the sale of its only asset, the intellectual property associated with its Customer Portal, allowing its counsel to withdraw, and intentionally failing to retain new counsel to defend it."
TCN was under legal assault when it transferred its assets to the new businesses.
The Indiana Attorney General's Office sued TCN in June 2015, saying the loans students took out had high interest rates and that few people actually completed its program and went on to earn a college degree.
New York Attorney General Eric Schneiderman also sued the company, contending that its customers "were duped into buying expensive, inadequate study materials and access to 'academic advisors' who were falsely touted as experts."
Eyler as of IBJ deadline on March 2 had not filed for bankruptcy. He did not return a voice mail message.
It's not clear whether Career Learning and Global Learn are still operating. Each still has an active website, but phone messages left at the businesses were not returned.
Citing The College Network's refusal to defend itself, the court on Feb. 27 issued a default judgment against the company. As part of its request for sanctions against Eyler, Southeast Financial Credit Union is seeking a similar judgment against Eyler personally for the entire $13 million it says it is due.
In a March 1 filing, Cohen & Malad attorneys representing Eyler argued against the motion, calling it "excessive under the circumstances." The attorneys argued that unless Eyler files for bankruptcy soon—a move that would stay lawsuits against him—he should be given another chance to be deposed.
Eyler, 69, is no stranger to legal troubles. In 1988, the U.S. Department of Education filed a civil fraud lawsuit seeking $366 million from him and his former company, Carmel-based Continental Training Services Inc.—at the time the largest truck-driving school in the country.
The suit alleged Eyler falsified documents that made students attending Superior eligible for federally backed education loans. Those loans represented the bulk of Superior's more than $50 million in annual tuition income. It also said the students received inadequate training, resulting in a default rate on loans of more than 50 percent and leaving taxpayers on the hook for the debt.
The company eventually went bankrupt and settled its case with the government. As part of that settlement, Eyler was forced to sell off valuable Indiana real estate, including a 336-acre estate in Brown County and a house in Meridian Hills.•
Please enable JavaScript to view this content.