Hundreds of thousands of square feet of newly vacated office space will hit the downtown market this month and another,
even larger blow could be coming.
The new owners of insurance giant Safeco Corp. plan to leave a five-building
office complex at 500 N. Meridian St. when their lease ends Aug. 31—a move that alone will elevate downtown's
vacancy rate more than 2 percentage points, to 17 percent.
But more disconcerting is a new offering just south
of downtown: Eli Lilly and Co. has begun marketing its entire four-building, 465,000-square-foot Faris campus. Brokerage firm
CB Richard Ellis posted the offering on its Web site Aug. 10, but the listing disappeared after IBJ began asking
questions.
Lilly spokesman Ed Sagebiel said the company is testing the market as part of an evaluation of how
it can "optimize the space utilization throughout the organization" and improve collaboration among employees.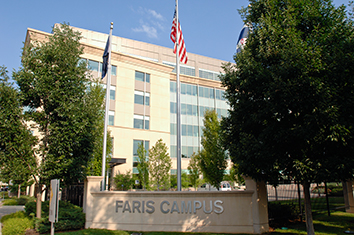 Eli
Lilly and Co. invested $58 million into its Faris campus only eight years ago. (IBJ Photo/Robin Jerstad)
Departures
by Safeco and Lilly would dump nearly 1 million square feet of office space—the equivalent of another Chase Tower—onto
a market segment that already is reeling. Observers say office-vacancy rates could exceed the 23-percent peak of the early
1990s before the market levels off.
The city's central-business district already is about 15-percent vacant,
while suburban space is 22-percent vacant, the local office of Colliers Turley Martin Tucker reports.
Overall, the market is 19.2-percent vacant. And that doesn't include at least 500,000 square feet
of space current tenants are marketing as available for sublease.
The growing glut of excess
space could mean better deals for tenants at the expense of landlords forced to lower rents to combat vacancies.
"If they get aggressive wit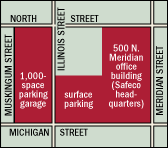 h rents, [building values] will fluctuate potentially downward, which is not what landlords
want to see," said Brian Meeks, a local vice president for St. Louis-based Colliers Turley Martin Tucker.
Competition is particularly fierce for those looking for big chunks of space, including Maryland-based Kaplan College,
which is considering a couple of Midwestern cities for 100,000 square feet of administrative offices.
Building
owners are feeling pressure to make just about any deal that keeps tenants in place and avoids new vacancies,
said Jeff Harris, president of Meridian Real Estate and listing broker for the Safeco space.
"It's a tough time to be a building owner," Harris said. "There are a lot
of vacancies and your product really needs to be the best it can be to attract the tenants that are out
there."
For the Safeco space, he's talking to several potential tenants looking for 70,000
to 100,000 square feet. Selling points include an adjacent, 1,000-space parking garage, large floor plates and planned upgrades,
including a conference center and workout facility.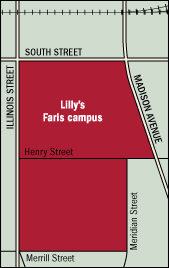 Safeco was leasing 380,000 of the 436,000 square feet in the complex, which is owned
by private investors from Michigan. The only other tenant is IU Medical Group.
Boston-based
Liberty Mutual paid $6.2 billion to acquire Seattle-based Safeco last year and opted to consolidate the Safeco office with
existing Liberty Mutual properties.
The company plans to move 580 employees from the Meridian Street buildings
into two Liberty Mutual-owned buildings along 96th Street near Interstate 465, said Christopher Goetcheus,
a Liberty Mutual spokesman. He said there will be no layoffs.
Safeco's
departure marks the end of an era for an insurance operation founded almost 100 years ago on the same
block. Brothers Edward and Dudley Gallahue started what would become American States Insurance in rented
space in the early 1900s. They survived the Depression and gradually bought up properties on the block
to expand.
The Safeco space will take over as the largest available downtown. The 270,000 square feet available
for lease at the 425,000-square-foot M&I Plaza currently holds that distinction.
The
Lilly space would eclipse both. Lilly began construction on its $58 million Faris campus in 2001 with
development partner Kite Realty Corp. It opened in late 2002. The campus includes the renovated Faris
and Brougher buildings, a new 150,000-square-foot office building and a 1,550-space parking garage—all
west of Meridian Street between Merrill and South streets.
An online listing said the
"trophy" property along South Meridian Street can accommodate up to 1,800 employees and "offers
unobstructed views of downtown Indianapolis."
Lilly employs about
11,900 people in Indianapolis, about 700 fewer than a year ago and several thousand fewer than five years
ago.
About 950 Lilly employees work at the Faris complex on global marketing and branding
of the company's drugs, Sagebiel said. If Lilly leases the space, those employees would move to
either the Lilly Corporate Center on McCarty Street or the Lilly Technology Center on Harding Street.
"No decisions have been made at this time," Sagebiel said. He expects a decision by the fall.•
__________
Staff writer J.K. Wall contributed to this story.
Please enable JavaScript to view this content.