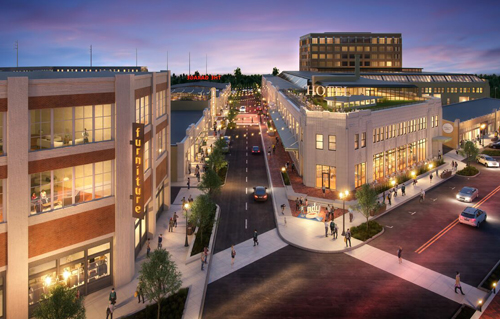 A city planning body on Wednesday got its first glance at the plans for a massive mixed-use project at College and Massachusetts avenues that the developer hopes to start construction on later this year.
The $260 million development, proposed by Hendricks Commercial Properties, would feature a 136-room West Elm hotel, an eight-screen cinema, office and retail space, and apartments and condominiums.
The Beloit, Wisconsin-based developer has dubbed the project Bottleworks, in reference to the former Coca-Cola bottling plant on the site that would be an integral piece to the 11-acre project.
Residents of the Chatham Arch neighborhood packed the 350-seat Basile Theatre in the Athenaeum building to hear Hendricks officials pitch their plans to the Indianapolis Historic Preservation Commission in what's known as a "preliminary review." IHPC members provided feedback without casting a vote on the design.
Plans for part of the property have been scaled down since the Indianapolis Public Schools board in May approved a recommendation to sell the property to Hendricks. IPS owns the site and used it to house the school system's bus-maintenance operations in the historic bottling plant.
Hendricks' plans now call for 157 apartment units instead of 300—though the developer has added space for 40 for-sale condominiums—and office space of 170,000 square feet instead of 339,000 square feet.
Retail space, however, would rise from 67,000 square feet to 114,000 square feet—an amount that at least one IHPC member questioned.
"College [Avenue] is already over-retailed with bars and restaurants," Susan Williams said. "It would be nice if it was all residential."
Hendricks' plans show a five-story, brick and limestone condominium building where College and Massachusetts avenues intersect, with apartments extending north on College and wrapping East 9th and 10th streets. Retailers would occupy the ground level of the residential buildings.
First-floor retail also would be incorporated into the hotel, which would occupy the historic bottling plant. A third level would be constructed above the bottling plant building but set back far enough to where it wouldn't be visible from the street.
Hendricks plans to preserve the entire building by repairing roughly 70 percent of the terra cotta façade.
"It's quite a daunting task, but we are committed to the restoration and renovation," Jeff Milliken, an architect at Ratio Architects, said.
Ratio is designing the project along with fellow local firm Rottmann Colier Architects and Uhen Architects of Milwaukee. IHPC President Bill Browne, who is managing partner of Ratio, was not present at the meeting and will recuse himself from the approval discussions, Hendricks executives said.
A garage building along Carrollton Avenue would be demolished, save for the façade, to build the cinema, which also would feature first-floor retail. The building is not historically significant, Hendricks representatives said, and needs to be razed to make way for an 1,100-space, underground parking garage.
Two other garages would be preserved to create a culinary market where patrons could shop and eat.
The last piece of the project would be an eight-story office building constructed north of the hotel, at the corner of Bellfontaine and 10th streets.
Overall, Bottleworks would feature 1.2 million square feet of development.
"This is going to be a complex project," said Isaac Bamgbose, Hendricks' asset manager. "We want to create something special and something that spans the test of time."
Still, IHPC members gave Hendricks plenty to ponder before it officially presents plans to the commission. Some members favored the historic design of the project while others thought it needed to be offset with more modern features.
Scale was also an issue, with members debating whether it was too large in places, particularly the five-story condominium building and eight-story office structure.
"I'm not as concerned about the heights," Jim Kienle said. "The overall scale is appropriate."
Hendricks has the property under contract and needs to finalize the $12 million sale with IPS before a July 1 deadline. If not, the city would be required to buy the lot from IPS for as much as $13 million.
The project could take five to 10 years to finish and would be constructed in five phases, with Hendricks tackling the hotel first. IHPC members expressed concern that the ground fronting College Avenue might sit vacant for too long.
"The phasing sucked my enthusiasm out of the room," Williams said. "I would challenge you to rethink your phasing, so the neighborhood isn't looking at surface parking, and focus your phasing outward. It's very nerve-racking to look at surface parking."
The scope of Bottleworks has prompted IHPC to scheduled separate, monthly hearings for the project. It is scheduled to vote on it in July.
 
Please enable JavaScript to view this content.