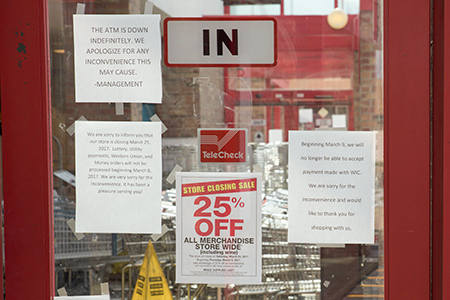 Struggling Marsh Supermarkets has stopped paying rent on six Indianapolis stores, a move that might suggest the struggling chain is preparing to close them to shore up finances.
Marsh said it doesn't comment on the status of specific locations but acknowledged in an emailed statement that the cutthroat grocery industry is prompting the company's decision to further reduce its footprint.
The Fishers-based chain has not paid monthly rent at the locations since fall, per lawsuits filed this year by property owners. They're attempting to collect a total of at least $480,000 in unpaid rent and property taxes, in addition to other expenses.
The chain has steadily shrunk since Florida-based Sun Capital Partners acquired it in 2006 for $88 million in cash and the assumption of $237 million in debt. Marsh, which had 120 groceries when the deal closed, now has 67. Closing the six locations where it has halted rent payments would accelerate that trend, reducing the store count to 61.
"We are working hard to operate our business effectively in a highly competitive industry, and that means making difficult decisions about a few stores that are no longer viable," Marsh said in its statement.
"Although store closures are part of the normal course of operations in the grocery and retail industries, we are making every effort to reduce the impact on our community, customers, and employees," the company continued. "This includes working to find positions for our associates at other Marsh store locations. Our overall goal is always to serve customers well and put our company in the best position for future success and growth."
Told about Marsh's statement, one landlord responded sarcastically.
"It's gratifying to see the owner of a longtime Indiana tradition taking care of their employees and communities," said Erik Jansen, part of a Seattle-based ownership group that has sued Marsh over nonpayment of rent at its strip center at East 21st Street and North Post Road. "I trust they will be as respectful of their landlords that have kept that stewardship with them."
Another landlord suing Marsh is Kovacs Enterprises LLC, which owns the Marsh-anchored strip center at Madison Avenue and Stop 11 Road on the south side.
The store recently notified customers it will close March 25.
Neither Kovacs nor its attorney responded to messages from IBJ seeking comment on the lawsuit and store closing.
But in court records, Kovacs and the other property owners assert they brought their cases after Marsh fell at least two months behind on rent.
Veteran grocery analyst David Livingston said Marsh's trail of unpaid bills reflects that it is an "ineffectual operator."
"The fact that it's a multiple number of cases would indicate that there's probably some cash-flow problems," said Livingston, who runs DJL Research in Waukesha, Wisconsin. "I just don't know of any viable company that arbitrarily starts to withhold rent."
Marsh, founded by the Marsh family in 1931, has struggled to compete in recent years in the face of withering competition from Kroger, Meijer, Wal-Mart and other larger chains.
Except for the soon-to-close south-side store, locations where lawsuits say Marsh is no longer paying rent are concentrated on the east and west sides. The addresses are 2135 N. Post Road, 7481 Shadeland Ave., 6243 E. Washington St., 5104 N. Franklin Road, and 35 N. Lynhurst Drive.
Marsh is also facing an unpaid-rent lawsuit filed by the landlord for a Shelbyville store that closed in 2011. Court documents say Marsh stopped paying on its lease in December, after failing for years to find a tenant to assume its obligations.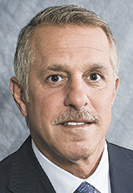 Efroymson
Veteran bankruptcy attorney Henry Efroymson said the company's actions suggest financial pressures are escalating.
"It's sort of a recipe for a potential bankruptcy," said Efroymson, a partner with Indianapolis-based Ice Miller LLP. "The fact that there are several payment defaults on leases would just confirm that suspicion."
The latest Marsh store closing occurred in late January. That location, near Keystone Avenue and 53rd Street, opened in 1957. It was the then-Muncie-based company's first location in Indianapolis.
The store was down the street from a newly opened Meijer.
Marsh said in July that it has been boosting its competitiveness with an aggressive store-renovation program. It said it upgraded 25 stores over the last two years and that another 20 were in the planning stages.
But not all contractors have been paid for their work, according to mechanic's liens filed by contractors, further illustrating Marsh's financial problems.
Local mechanical contractor DEEM LLC filed liens in December and January on unpaid bills totaling $63,706.
Other lien filings include Edwards Electrical & Mechanical on Shadeland Avenue, seeking to collect $32,730, and Gordon Plumbing Inc. in the Castleton area, on unpaid bills totaling $26,401.
Sun, with more than $9 billion in capital under management, has the financial firepower to rescue Marsh if it chooses. But private equity firms, like any investor, aren't prone to put in additional cash unless they're confident they'll earn a return on it.
Private equity firms typically seek to sell off the companies they buy within six years.
But Sun's underinvestment in the stores has left it unable to attract a buyout offer from a competing chain, Livingston said.
"That ship has sailed," he said.•
Please enable JavaScript to view this content.