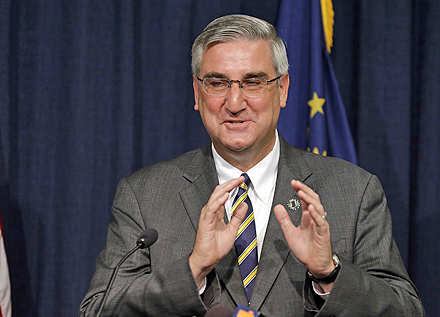 Gov. Eric Holcomb has changed his tune on the health care plan pushed by President Donald Trump.
Holcomb joined seven other governors Thursday afternoon to announce support for the so-called American Health Care Act, even as the fate of Congressional Republicans' plan to repeal and replace Obamacare appeared uncertain.
A vote on the bill was cancelled Thursday in Congress as news organizations reported that it did not have enough support to pass. The bill is being cheered by Trump and House Speaker Paul Ryan but it faces opposition from Democrats and some far-right and moderate conservatives.
Holcomb at first said he was concerned about the bill's cuts to the Medicaid program that serves 400,000 low-income Indiana residents—and that he believed he had "not seen a more successful program."
But he said in a letter sent Thursday to U.S. Senate Majority Leader Mitch McConnell and Ryan that he supports the bill "especially now that important changes to the legislation were announced this week."
Along with Holcomb, also signing the letter were the governors of Alabama, Idaho, Kansas, Maine, Mississippi, Missouri and Utah.
"The move to a more flexible Medicaid program that empowers states with options to utilize per-capita caps or block grants; providing a workable timeframe for transition out of Obamacare; advancing work requirements to encourage able-bodied Americans to find jobs; and providing states with funds to help stabilize our insurance markets and provide assistance to low-income Americans, are all positive improvements to the bill," the letter reads.
The letter also says the Affordable Care Act has "overburdened and over-regulated our businesses, medical communities, and American families" and that it "expanded Medicaid in a way that diverts resources away from the program's core mission."
It is possible that Republicans will vote on the bill Friday, per a statement from the White House.
Please enable JavaScript to view this content.