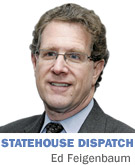 The House Committee on Utilities, Energy and Telecommunications held a hearing on the so-called "net metering" bill late in March, and it lasted approximately 6-1/2 hours.
Without a break.
That marathon meeting might have caused more than a few members to lament that a colleague still in his 20s had been named to chair the panel.
Rep. Dave Ober, R-Albion, the utilities committee chairman who wielded the gavel (and, no, it wasn't a plastic Playskool version), turned 30 on March 30. Though some older lawmakers might no longer joke about confusing him with pages, that milestone birthday won't greatly alter their perception of him.
That's because Ober—born after several of his House colleagues had already settled into legislative careers—belongs to the millennial generation, the age cohort born from 1982 to 2004. This generation has already edged out baby boomers—arguably the most influential age group to dominate the second half of Hoosier history—as the largest generation in American history.
With the leading edge of baby boomers in their early 70s (and the youngest well into their 50s), millennials will soon be "large and in charge," and that offers an opportunity for positive change for Hoosiers.
Hoosier baby boomers might have seemed to be advocates for change—think about the phosphate ban and Equal Rights Amendment—but when you note how many major laws date back generations, you realize change has been slow or even non-existent. Some of the younger baby boomers and older members of subsequent Generation X combined to make changes in telecommunications laws, but much of our long-term mind-set remained statutorily intact. 
But the day before Ober turned 30, he did something that might prove significant moving forward. He teamed with Rep. Dan Forestal, D-Indianapolis, the state's youngest Democratic legislator (34 in March) to announce creation of the Indiana Future Caucus. This consortium aims to pass future-focused legislation on issues affecting young Hoosiers across party lines. The Indiana caucus is part of the Millennial Action Project's national movement of young elected officials seeking to break through partisan gridlock to re-establish political cooperation.
Why is this important? 
Set aside the professed goals on cooperation and gridlock and consider the generational change and attitudes. 
Millennials are in a position to question why things have always been done a certain way, even though market forces, public attitudes and technology might have evolved to render a given public policy, regulatory structure or even government involvement obsolete—or perhaps not.
These are people who have grown up with smartphones, not flip phones; Facebook, not MySpace; tablets, not TRS 80s; HD-streamed news, not three scheduled network newscasts; and constant unfiltered social media options). They're comfortable with multiple forms of technology and adapt easily to change (migrating seamlessly from typing instant messages to thumbing texts).
And they use Gmail, not AOL, Mr. Vice President.
The Kennedys—exemplars of generational change—co-opted the words of George Bernard Shaw: "You see things; and you say, 'Why?' But I dream things that never were; and I say, 'Why not?'"
Hoosier legislative millennials, led by Ober and Forestal, are positioned to do both, asking why age-old precepts such as how we regulate alcohol sales, or even our generation-old riverboat-gambling framework, remain relevant or appropriate today … and determining how such services as Uber and Airbnb do or should fit within state constructs; how millennial attitudes toward job-hopping and mobility affect home or vehicle ownership and public transit; and ascertaining what's next in technology and medicine—and how to address issues and impacts of such concepts as driverless vehicles.
Delve deeply into some of these matters and you'll perhaps find less partisanship than practical considerations at play. Millennials might be poised to lead us through a post-partisan era of sorts, addressing new issues and opportunities for Indiana's third century.•
__________
Feigenbaum publishes Indiana Legislative Insight. He can be reached at edf@ingrouponline.com.
 
Please enable JavaScript to view this content.