An Anderson University fine-arts-major-turned-entrepreneur has helped develop a unique student-loan-forgiveness program that encourages recent Indiana graduates to set up shop in Anderson.

The program—called Anderson Now—sprang from a larger school effort called IDEA-U, created to help students develop, among other assets, networking, professional development and entrepreneurship skills. The university did well with the first two endeavors but not the third.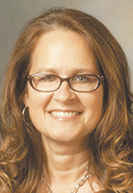 Fox
"We were just not seeing the kind of success we hoped for with entrepreneurship," said Deborah Miller Fox, associate professor of English at AU and director of both IDEA-U and Anderson Now.

Which is where that fine arts major—2011 AU alumnus Ben Orcutt—came in.

After graduating, the Cincinnati native made himself at home in Anderson, opening a bicycle shop called Buckskin Bikes. He's also getting ready to open a coffee shop, Jackrabbit Coffee Co., next door this summer. Already married and with one child, he's the very model of the sort of entrepreneur any city would love to attract.

But by his own admission, things would have gone very differently if he'd faced a mountain of student debt. Which he didn't, because his parents covered his schooling.

"I realized, well after the fact, how great a deal that was," said Orcutt, 28. "I felt comfortable taking the leap into entrepreneurship because I didn't have a bunch of debt hanging over me. I saw many of my friends, who had fabulous business ideas and wanted to stay in town, fall away one by one because they had loan payments they simply had to make."

Instead of turning into one of those wage slaves, Orcutt became a businessman and a member of the IDEA-U advisory committee. He mentioned his happy circumstances to Fox and other committee members, and it became the impetus for Anderson Now.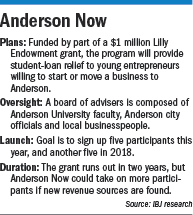 The project, underpinned by a portion of a $1 million, one-time grant from Lilly Endowment Inc., will select 10 Indiana college graduates who wish to start a small business in Anderson or move an established one there, then assume their school loan payments up to $25,000.

"That's the maximum amount, not a guaranteed amount," Fox said. "And we won't give it to them in one big lump. We will make their monthly payment for a period of years, and take that off their shoulders. But we don't clear their debt for them. They have to stay engaged in our program to receive that monthly debt repayment."

Participants also get access to co-working space, plus mentoring and support from Anderson businesspeople and AU faculty.

"That combination of support pieces creates an ecosphere that will enable us to retain college talent and hopefully grow some new businesses," said Greg Wink-ler, director of economic development for the city of Anderson and an Anderson Now adviser.

One of the places he'd particularly like to see entrepreneurship take root is in the city's sleepy downtown. Anderson has had a run of luck lately attracting manufacturing, warehousing and food-processing operations, to the tune of $1.5 billion in outside investment over the last decade. But most of those 19 new operations are out by I-69.

"One of the things that we have yet to be successful at doing is rejuvenating our downtown," Winkler said. "If you come to Anderson, you're going to see all those new companies right at Exit 222."

Which helps explain why the city will go so far as to offer low-cost housing for Anderson Now participants. Not that real estate costs are a huge burden. Orcutt, who purchased his own building for his bike shop right out of school, (a move that would be tough in Indianapolis and a joke in, say, Seattle or New York City), can't use enough adjectives when describing his adopted hometown's possibilities.

"I think Anderson is a fabulous place to start a business," he said. "Living expenses are very low, and you're a four-hour drive from five or six major metro areas. We have a lot of assets."

Indianapolis attorney Michael Lux, who runs the student loan strategy website The Student Loan Sherpa, said the Anderson Now strategy is unique not just to Indiana but possibly the country.

"This is one of a kind, and pretty exciting," Lux said. "Student loan debt is a huge barrier to entry when starting your own business. Your debt-to-income ratio when you come out of school is a disaster, and that's just another huge hurdle to getting money or backing for a new business."

Fox hopes Anderson Now can vet and sign up its first couple of participants by early May. So far, those applying are mostly proposing service firms, rather than businesses in such fields as technology. However, Fox said the mix might evolve over time.

Anderson Now hopes to bring in five participants this year and another five in 2018, then work with them over the next five to 10 years. That's pretty much all the program can do before the grant runs out. However, Fox is hopeful the end of the Lilly Endowment cash won't mark the end of the effort.

"If we can establish that this model works, we're really hopeful that we can attract the attention of investors, or the city might decide it wants to keep doing this for a while," she said.

In choosing the first participants, Anderson Now's organizers are gravitating toward recent graduates, on the suspicion that millennials are most comfortable with making life-changing career decisions.

"We suspect that people who graduated in the last five or six years are fairly unencumbered, so they are the ones who still have the greatest degree of flexibility to relocate and take this risk," Fox said.

However, if you're a 40-year-old recent Indiana graduate with a dream and a pile of debt, you're welcome to apply.

"We're willing to be surprised," Fox said.•