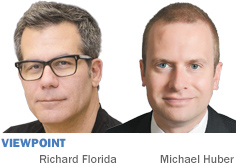 In recent years, Indianapolis has enjoyed a remarkable boom in high-tech industry, adding technology jobs at a rate faster than Silicon Valley, amid a broader upswing in innovation-based employment.
Indy's trajectory puts it on the map of our changing economic geography: The city is reviving. Employers and investments are following smart people. Population density brings together more interactions among creative workers, sparking innovation and entrepreneurial energy.
But even growing cities grapple with the byproducts of their own success. While Indianapolis has economic momentum, the metro's poverty levels are stubbornly high, up 80 percent since 2000.
Across the nation, a new age of "winner-take-all" urbanism has emerged; a small group of elite cities reap the spoils of migrating talent. Cities become increasingly divided into pockets of prosperity and poverty.
How did we arrive at this "new urban crisis"?
It wasn't long ago that major employers saw self-contained office campuses as the way to keep employees engaged and on task. Countless tech giants are based in the sprawl of Silicon Valley; others cluster around the suburbs of Boston and Austin, or the suburban office parks of the Research Triangle.
Indianapolis saw a similar trend, along with large manufacturers embracing greenfield development even farther from the city. While urban leaders rallied around the revitalization of downtown to put the city's "Naptown" image to sleep, workers, businesses and capital steadily fled.
In the 1990s, the tide began to turn. Startup companies became the most productive creators of jobs and innovation, and human capital became the indispensable resource of the modern knowledge economy. As educated workers moved to cities in rising numbers, employers and entrepreneurs joined them; by 2013, the majority of all U.S. venture capital flowed into urban ZIP codes.
But as high-paid, tech-savvy workers migrated to urban neighborhoods, new problems followed. Today, the majority of college-educated workers and low-income Americans live in large urban regions, but the latter are crowded into areas of concentrated poverty.
The Indianapolis area suffers from a moderately severe case of the new urban crisis—measured as a composite index of wage inequality, income inequality, overall economic segregation and housing unaffordability. Among large metros, Indianapolis ranks 35th on the New Urban Crisis Index. More troubling still, it ranks 15th among large metros according to its levels of both income and educational segregation.
But as the region builds on its tech success and steps up its appeals to new talent, there's time and opportunity to craft an inclusive urban agenda that leads to longer-term, sustainable economic growth.
The emerging 16 Tech innovation district near downtown, for instance, is a promising model of how high-tech growth can spur broader redevelopment. Its commitment to reinvesting in surrounding neighborhoods and supporting nearby entrepreneurship centers and training programs will allow residents to participate in exciting opportunities taking place (almost literally) in their own back yards.
Another step toward more inclusive growth in Indianapolis is the city's successful push for improved mass transit, which has the potential to reconnect people to new opportunities. Currently, around half of Indianapolis' science, technology and engineering jobs are "middle skill," meaning they require an associate's degree or less. With improved access to transit, a greater share of Indianapolis residents will gain access to high-skill jobs and educational opportunities.
As cities like Indianapolis prioritize talent and economic development, they must plan thoughtfully for sharing opportunity with those who keep the city running. In so doing, Indianapolis' public and private sectors can turn "the next urban crisis" into an opportunity for a fuller, fairer and more inclusive urbanism.•
__________
Florida is author of the "New Urban Crisis" and is a professor and director of cities at the Martin Prosperity Institute and co-founder and editor-at-large of The Atlantic's CityLab. Huber is president of Indy Chamber.
 
Please enable JavaScript to view this content.