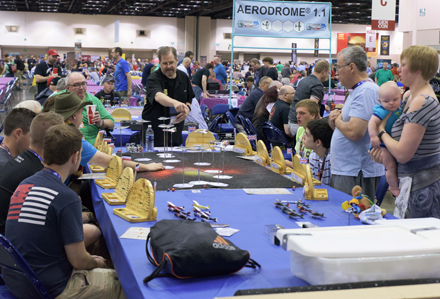 Indianapolis' largest convention is getting bigger. And it's using Lucas Oil Stadium to do so.
Last year, Gen Con expanded into Lucas Oil Stadium for the first time—using 60,000 square feet of the stadium—as a test of sorts. There was concern attendees of the annual gaming convention wouldn't want to walk the block south from the Indiana Convention Center to the stadium.
That test, Gen Con officials said, was a success. And this year, the massive event will celebrate its 50th anniversary by more than doubling the space it uses at the stadium. 
In addition to the space it used last year, Gen Con this year plans to use the entire 92,000-square-foot football field area as exhibition and event space, including a large portion of that space to commemorate the very first Gen Con. Attendees will get to see gaming artifacts and tributes to the early Gen Con events, including a homage construction of Lake Geneva, Wisconsin's Horticultural Hall where they first took place. (The name Gen Con is derived from "Geneva Convention," in reference to that first location.)
Altogether, Gen Con this year will use 152,000 square feet of the stadium, including two exhibit halls and the entire field level.
"Our expansion inside of Lucas Oil Stadium reflects the increasing scale of the convention, but also will allow us to comfortably fit a tribute space that is approximately to scale of the first Gen Con, right on the field," said Adrian Swartout, CEO and owner of Gen Con, in a written statement.
In total, the event will use more than 750,000 square feet in the Indiana Convention Center, the connector between that facility and Lucas Oil Stadium, and the stadium itself. It's the most space ever booked for an Indianapolis convention.
"Lucas Oil Stadium was connected to the Indiana Convention Center and deliberately designed to serve as a multi-purpose venue to provide exactly this kind of flexibility in growing events here," Visit Indy CEO Leonard Hoops said in written comments.
Debbie Locklear, a locally based meeting planner, said getting conventions to expand into the 9-year-old stadium has been a tough sell.
"For a lot of conventions, that stadium seems like a long way to go, and exhibitors are hesitant to be in an area that seems like an outpost," said Locklear, president of Meeting Services Unlimited Inc. "I think the key to Gen Con's success is putting special attractions there to give attendees good reason to make the trek."
Visit Indy Vice President Chris Gahl told IBJ the Gen Con expansion is a significant milestone.
"This is a perfect example of how a convention can use the entire facility," Gahl said. "Being able to tout that the city can utilize a full building and how we can help an organization grow into the full facility here tremendously helps market Indy."
Gen Con moved its annual convention to Indianapolis in 2003 and has seen paid attendance nearly triple, from 23,000 to about 61,000 in 2016. The growth rate has accelerated in the last seven years.
Gen Con—which has a contract to remain in Indianapolis through 2021—has more than doubled in size since 2010, beating most projections. Last year Gen Con drew nearly 61,000 "unique" ticket buyers, including attendees from all 50 states, every Canadian province and more than 54 countries.
Gen Con had a $72 million economic impact on the city, according to Visit Indy, and is currently Indianapolis' biggest convention. With the Lucas Oil Stadium expansion, Gahl thinks that impact will grow.
"We anticipate that Gen Con's continued growth into Lucas Oil Stadium would translate into continued growth in overall attendance," Gahl said. "That's what all projections indicate." 
This year's event is scheduled for Aug. 17-20.
Please enable JavaScript to view this content.