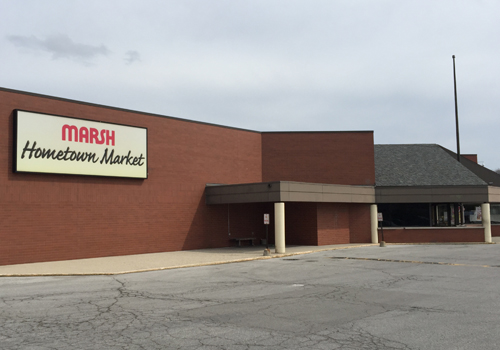 A Marsh Supermarkets Inc. executive said Wednesday that "sustained weak performance" led to the decision by the locally based grocery chain to close three more stores.
The three stores, which are set to close May 6, are at:
— 2135 N. Post Road in Indianapolis;
— 1240 N State St. in Greenfield; and
— 11865 Hamilton Ave. in Cincinnati.
"This is a very difficult decision for us as we have been serving these communities for many years and have many great relationships with our valued customers," David Palmer, senior vice president of marketing and advertising, said in an email to IBJ. "We are working to employ any associate who wishes to remain with Marsh at one of our other stores."
The closures will leave Marsh with about 60 stores, down from 120 in 2006, when Florida-based Sun Capital Partners acquired the company.
Industry experts are predicting more closings are likely, with Marsh refusing to pay rent at the most-endangered locations, prompting lawsuits from a handful of landlords seeking eviction orders.
One of the landlords suing Marsh for unpaid rent operates the shopping center that houses the 2135 N. Post Road store and has been seeking to evict Marsh from the property.
The Seattle-based ownership group filed its lawsuit in January and is one of at least six landlords suing Marsh for unpaid rent. Other complaints haven't progressed to eviction hearings yet. The group said Marsh hasn't paid rent on the store for several months.
A Marion Superior Court judge had scheduled a hearing for May 11 on the landlord's request for possession of the property.
Marash has declined comment on the lawsuits.
Please enable JavaScript to view this content.