Struggling Marsh Supermarkets' best bet at this point would be to close underperforming stores and find buyers for its most profitable ones, industry experts say.

Florida-based Sun Capital Partners acquired locally based Marsh in 2006 and for years has tried to unload the troubled chain without any takers. Marsh's store count since the sale has withered from 120 to 64 in the face of escalating competition from larger chains.

More closings are likely, with Marsh refusing to pay rent at the most-endangered locations, prompting lawsuits from a handful of landlords seeking eviction orders.

Sun likely is marketing its top stores, according to retail observers, who view Giant Eagle, Fresh Thyme and Fresh Encounters as among the most plausible suitors.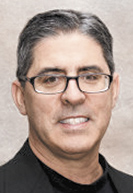 Livingston
Stores "have been shopped for many years and buyers have turned away," veteran grocery analyst David Livingston said. "But everything has some value and, when it's cheap enough, someone will buy."

Pittsburgh-based Giant Eagle Inc. operates nearly 230 groceries, including the 125,000-square-foot Market District that opened in Carmel in October 2015. The company also owns five GetGo convenience stores in the metropolitan area but is vague about growth here.

"At this time, there are no confirmed plans to expand our supermarket presence in the coming months," a spokeswoman said via email.

Suburban Chicago-based Fresh Thyme arrived in the area in 2014 and now boasts seven stores—five in Indianapolis and one each in Carmel and Fishers—with its latest outpost opening late last month at The Coil apartment development in Broad Ripple.

Findlay, Ohio-based Fresh Encounter operates the Great Scot, Community Markets and Chief Supermarket brands in eastern Indiana and Ohio, and could be a buyer for the seven Ohio Marsh stores. Fresh Encounter announced in February that it agreed to buy Erlanger, Kentucky-based Remke Markets, a family-run chain operating 10 stores in the Cincinnati area.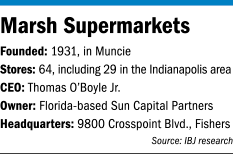 Neither Marsh nor Sun Capital responded to requests from IBJ for comment on the future of Marsh.

But Livingston, who runs DJL Research in suburban Milwaukee, predicted that only the top stores will be in play.

"Really, I don't know if there are more than 10 or 15 that are worth acquiring," he said. "After that, it's high risk."

Retail observers say Marsh's best stores include those at 2350 Broad Ripple Ave., 5151 E. 82nd St. and 1435 W. 86th St. in Indianapolis and 1960 E. Greyhound Pass in Carmel.

Sun Capital bought Marsh for $88 million in cash and the assumption of $237 million in debt. Sun, with more than $9 billion in capital under management, has the financial firepower to rescue Marsh if it chooses. But private equity firms, like any investor, aren't prone to put in additional cash unless they're confident they'll earn a return on it.

Marsh said in July that it has been boosting its competitiveness with an aggressive store-renovation program. It said it upgraded 25 stores over the last two years and that another 20 were in the planning stages.

It's unclear whether those projects are still in the works, as Marsh continues to whittle its store count. The company so far this year has shut three locations—at Keystone Avenue and 53rd Street, Madison Avenue and Stop 11 Road on the south side, and East 86th Street in Nora—in addition to the O'Malia's Food Market on South Meridian Street in November.

That leaves just one remaining O'Malia store, at East 126th Street and Gray Road in Carmel, to carry on the once-popular grocer's name.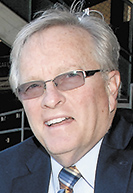 O'Malia
Danny O'Malia, who ran O'Malia Food Markets from 1975 until 2001, when he sold the stores to Marsh­, said Sun Capital has no choice but to try to sell some of the stores.

"It's about the only strategy that does make sense, at this point," he said. "They do have some very good stores, but they've got a lot of lemons."

More of those underperforming stores are likely to close.

One of the landlords suing Marsh for unpaid rent is seeking to evict the store from a shopping center at East 21st Street and North Post Road. A Marion Superior Court judge has scheduled a hearing for May 11 on the landlord's request for possession of the property.

The Seattle-based ownership group filed its lawsuit in January and is one of at least six landlords suing Marsh for unpaid rent. Other complaints haven't progressed to eviction hearings yet.

Additional locations where lawsuits say Marsh is no longer paying are at 7481 Shadeland Ave., 6243 E. Washington St. and 5104 N. Franklin Road. Marsh also is facing unpaid-rent lawsuits filed by the landlord for stores at 35 N. Lynhurst Drive on the west side that closed in 2015 and another in Shelbyville that closed in 2011.

Marsh, founded by the Marsh family in 1931, has struggled to compete in recent years with larger chains such as Kroger, Meijer and Wal-Mart—making its stores less attractive to potential buyers.

"They are the weakest grocer in the market," said Frank Swiss, a retail broker at Swissco Real Estate who represents The Fresh Market. "With the store closings over the last several years, and the stores where they have quit paying rent, they have tarnished their reputation."

Greensboro, North Carolina-based Fresh Market, which has stores at East 54th Street and College Avenue and one each in Carmel and Fishers, is focused on remodeling locations rather than adding new ones in the Indianapolis area, Swiss said.

But he said grocers looking to enter or expand have more options now that Indianapolis-based appliance and electronics retailer HHGregg Inc. is closing all 220 stores, leaving scores of empty big-box buildings in its wake.

Swiss said he's already been solicited by a broker marketing HHGregg space in Highland in northwestern Indiana.•