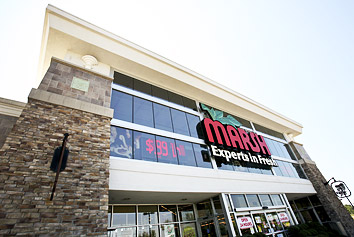 Marsh Supermarkets Inc. is preparing to close seven more grocery stores, including three in Indianapolis.
The seven closings come on top of three other store closures that Marsh confirmed earlier this week.
The three Indianapolis stores are at 7481 Shadeland Ave., 6243 E. Washington St., and 5104 N. Franklin Road. The closures are set for May 14.
Also closing on that date are Marsh stores in the Indiana cities of Frankfort, Logansport and Portland, and in Union City, Ohio.
David Palmer, senior vice president of marketing and advertising for Marsh, said in an email that employees at the seven stores were told about the closings on Thursday.
Palmer said the stores were being shut down because of "sustained weak performance." He said the company would work with employees at those stores who wished to work at another Marsh store."
Earlier this week, Marsh confirmed that it was closing stores at 2135 N. Post Road in Indianapolis; at 1240 N State St. in Greenfield; and at 11865 Hamilton Ave. in Cincinnati. Those closures are set for May 6.
All four of the Indianapolis stores that are closing are among those involved in lawsuits from landlords who say Marsh has stopped paying rent at those locations.
The round of closures will leave locally based Marsh with fewer than 55 stores, down from 120 in 2006, when Florida-based Sun Capital Partners acquired the company.
Please enable JavaScript to view this content.