One of the area's largest insurance agencies announced Monday that it plans to move its corporate headquarters from the northeast side of Indianapolis to Carmel next year.
MJ Insurance Inc., 9225 Priority Way W. Drive in the Precedent Office Park, expects to lease 30,000 square feet of space in a proposed four-story, 80,000-square-foot office building in the Midtown development. (See image below.)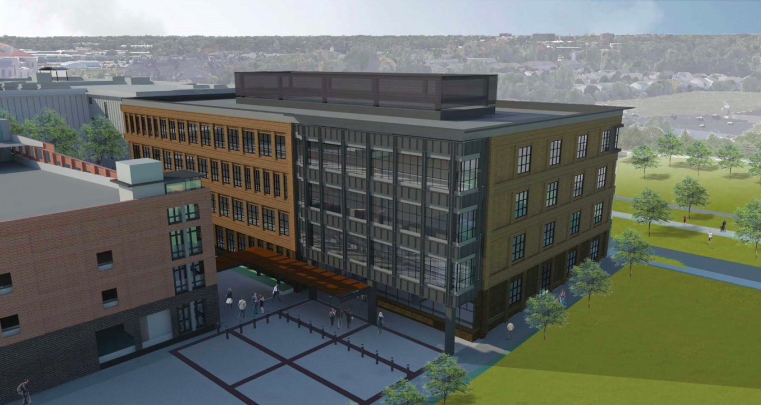 The agency reported nearly $635 million in premiums written in 2015, up from nearly $547 million in 2014, according to IBJ research, ranking it as the third largest independent insurance agency in the Indianapolis area.
The company has 122 employees, and, Jon Loftin, president and chief operating officer, said he expects to have 135 to 140 on staff by the time it moves to Carmel.
Midtown covers 17 acres between Carmel's Art & Design District and City Center. The mixed-use development, led by Carmel-based Old Town Development, is expected to cost more than $210 million.
Old Town Development is developing the $20 million office and retail building where MJ Insurance plans to locate, and Indianapolis-based Ambrose Property Group will own the building.
MJ Insurance is leasing the space for 10 years and plans to move in July 2018. The building is expected to be under construction by next month. 
The agency was founded in 1964 in Anderson, and moved to its Indianapolis location in the early 1970s.
Loftin said the amenities planned for Midtown, including the proposed $23 million expansion of the Monon Greenway, convinced the company to relocate.
"What's happening in Carmel is just tailor-made for what we're doing," Loftin said.
Justin Moffett, principal of Old Town Development, described the announcement as "another mountaintop moment" for the Midtown project.
The office building will be built to the north of the Midtown Flats project and to the east of the Monon Greenway. MJ Insurance and other future tenants will share a 310-space parking garage with residents living at the 206-unit Midtown Flats complex.
Please enable JavaScript to view this content.