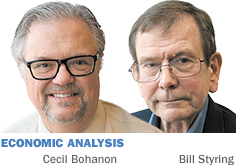 Debate over the male-female pay gap never seems to end. Women on average make about 72 percent of male pay. That's a fact. It's also true that factors other than gender enter into how much a person is compensated.
Economists have long recognized that women tend to choose lower-paying occupations, and are more likely to have career interruptions for childbearing/child care and for care of elderly relatives. This results in lower pay. When this is accounted for, the female pay gap essentially vanishes. Indeed, one of the leaders in this research, Harvard economist Claudia Goodwin, describes the adjusted wage gap as "… a pretty small number."
Simply "being a woman" does not result in lower pay. But there are those still determined to find female pay discrimination. The argument: Perverse expectations deeply embedded in our patriarchal society are the ultimate drivers of the male-female pay gap. The culprit behind women's second-class status is societal attitudes that force women to interrupt their careers, which results in lower pay. A typical argument: "Why are women expected to take maternity leave while men are expected to go back to work the next day?"
Well first of all, increasingly they aren't. Although women are still much more likely to stay at home than men, the world has been changing. Data in 2012 from the Pew Research Foundation indicate 29 percent of all moms stayed home with kids, while only 7 percent of dads did. In 1970, 47 percent of moms stayed at home; while, in 1989, only 4 percent of dads did. (Stay-at-home dads were apparently so rare in 1970 that they were not even counted.)
More bluntly, if more women than men decide to stay home to take care of kids, so what? Isn't this a decision best left to the couples involved? They know a consequence might be lower earnings for Mom if she should decide to return to work at some time in the future. This is surely a difficult choice for many couples, but it is still a choice and not "coercion" under any sane definition of the word.
Family child-care arrangements are changing. Better to leave this evolution to people, society and the market, not government bodies. Congress and state legislatures should resist the constant pleas to legislate what people are paid. The state has little business engineering or directing family child care choices in the name of "pay equity." Leave that to social mores or individual choices.•
__________
Bohanon is a professor of economics at Ball State University. Styring is an economist and independent researcher. Both also blog at INforefront.com. Send comments to ibjedit@ibj.com.
 
Please enable JavaScript to view this content.