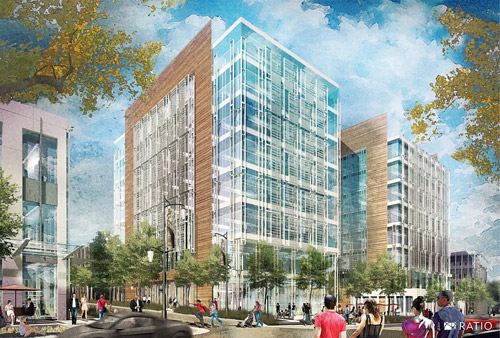 Locally based Ambrose Property Group has been selected to redevelop the former General Motors stamping plant property and is proposing a massive $550 million mixed-use project on the site at downtown's western edge.
RACER Trust, the entity charged with choosing a developer for the 103-acre parcel, announced its selection Tuesday morning. It chose Ambrose from four proposals that were submitted.
Plans from Ambrose call for 2.7 million square feet of development, including 250 apartments in the first phase, office and retail space, a hotel and public green space.
The entire project is expected to take 15 years to complete, with 535,000 square feet of mixed-use construction occurring in the first five years of the project.
"We pride ourselves on having bold ambitions and the drive to see them through, so when an opportunity to reimagine one of the iconic properties of our hometown was presented, we poured our energy and creativity into seizing it," Ambrose President Aasif M. Bade said in a prepared statement.
Bade and Patrick Chittenden—roommates at Indiana University—launched Ambrose in 2008 as a full-service real estate firm and four years later acquired the downtown 16-story Circle Tower, where the company has its headquarters. Ambrose sold Circle Tower in January to Chicago-based Level Office.
Bruce Rasher, Michigan-based RACER's development manager, declined to divulge the other three developers that submitted proposals, or the price Ambrose has agreed to pay for the property, citing confidentiality agreements.
"What Ambrose proposed to RACER came the closest and, in fact, would achieve the city's vision, so they were a clear choice for RACER." Rasher told IBJ on Tuesday morning.
RACER, or Revitalizing Auto Communities Environmental Response, in February issued a call for offers for the purchase and redevelopment of the site following six months of community engagement led by city officials.
"This is a tremendous milestone for the citizens of Indianapolis and Marion County, the Valley neighborhood and our downtown core," Mayor Joe Hogsett said in the press release. "We look forward to collaborating with Ambrose Property Group on a project agreement that makes this bold vision a reality."
To help spur construction on the site along the west bank of the White River, the city is prepared to extend the Cultural Trail's Capitol Avenue leg west on South Street past Lucas Oil Stadium. And South Street ultimately would be lengthened to extend over the river and connect with the development through other road improvements.
The aim is to create a downtown neighborhood in an area that for decades has been cut off from the core largely because the river acts as a barrier, instead of a catalyst, for development.
City officials wanted the property to have the walkable, residential feel of a neighborhood. which is reflected in Ambrose's plans. (Image courtesy RACER Trust)
The site became available again for redevelopment after Michigan-based RACER Trust terminated its contract in June with the Carmel-based developer REI Investments. REI had planned to build an outdoor concert venue on about half the land but couldn't secure financing.
Two years ago, it appeared set that the $30 million, 10,000-square-foot amphitheater would occupy the site's eastern half, and then-Mayor Greg Ballard's planned $500 million criminal justice center would occupy the western portion. But the criminal justice project unraveled later that year amid City-County Council opposition.
This time, however, RACER marketed the site for residential, retail and commercial uses to capitalize on growing interest from developers that envision a large-scale project encompassing the entire site.
RACER was established in 2011 to coordinate the redevelopment of old General Motors Corp. properties following the auto manufacturer's bankruptcy.
Please enable JavaScript to view this content.