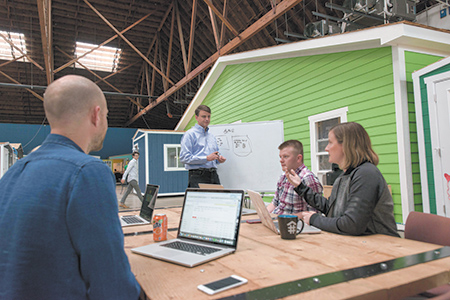 DeveloperTown, a software consultancy near Broad Ripple, is starting to look like "DeveloperCity."
The company, which gives most of its workers tiny houses in lieu of desks, had about 20 employees in 2012. Headcount now exceeds 60. Officials think that can grow another 50 percent before DeveloperTown's 22,000-square-foot hub, formerly a warehouse, runs out of room for houses.
And that might happen in a year or two, they said.
DeveloperTown brought in revenue last year of $8.2 million. It's been growing revenue about 40 percent annually over the past five years, a rate that far exceeds what leaders expected when they founded the company in 2010.
"It's a really interesting question in our industry," said Michael Cloran, one of DeveloperTown's five managing partners. "And that is, how big can you get in a single location and have it work?"
The brisk pace has been largely fueled by a fateful decision in 2013 to pursue large customers.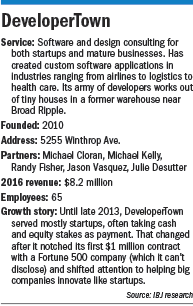 DeveloperTown sells software and design services to other companies. It started out focusing mainly on startups, taking cash or equity stakes as payment for help creating a web or mobile application, for instance.
Today, it still serves those clients, but it also serves large corporations looking to innovate their products or processes. Those clients are in such industries as health care, airlines and logistics. DeveloperTown's slogan is to help big firms "move like a startup."
The effort to target large companies had a serendipitous beginning. Cloran was at a networking event and was casually chatting with a senior official at a Fortune 500 company with operations here. (Cloran said he couldn't disclose the company.)
The "What do you do?" conversation morphed into a discussion about an IT project underway at that company, and the official expressed interest in seeing how DeveloperTown could help. Follow-up discussions led to DeveloperTown's signing a $1 million contract to assist with that project, which involved a mobile application and a back-end system that capitalized on patented technology.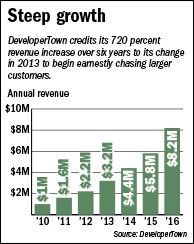 "That was the moment it crystallized for me," Cloran said, noting that one of the benefits of working with established companies is, they tend to pay their bills on time. "So, for me, it was like, 'This is super-interesting work, it's really profitable, and it'll make DeveloperTown stronger—better able to serve the startups that we do work with.'" 
DeveloperTown had done business with large companies before that deal, Cloran said, but hadn't made a concerted effort to target that work, which represented only about a quarter of revenue.
Today, large clients represent 85 percent of revenue.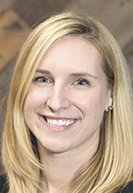 McDowell
One reason for the growth is corporations' hunger to innovate in an increasingly digital world. Startups and other nimble outfits are disrupting businesses that have "legacy business models and legacy technologies," said Danielle McDowell, executive director of The Speak Easy co-working space, who's familiar with DeveloperTown in part because the organizations have adjacent space.
Such companies are trying to avoid losing market share to innovative competitors. And they're seeking to hold on to employees who expect digital experiences that match what they've become accustomed to in their personal lives.
The latter was the case with Indianapolis-based Republic Airways Holdings, which tapped DeveloperTown in late 2014 to build a mobile app for its 4,200 flight crew members. The app allowed crew members to access work itinerary information—flight assignments, lodging reservations—in real time.
Before the app, crew members had to call a corporate hotline and wait for someone to read their itineraries. Severe weather and high call volumes made that wait longer.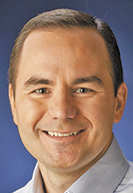 Koscal
Matt Koscal, Republic's chief administration officer, said the company knew it wanted a custom-built application instead of something off the shelf. As it would be with any new vendor, Republic initially was concerned about adoption risk—whether employees would use the app—and vendor risk—whether an agency with no aviation experience could deliver the right product on time and under budget.
Those concerns didn't last. "In my 20 years of experience, this is the one IT project that has had the quickest success in the shortest amount of time," Koscal said, noting the adoption rate for the app is more than 90 percent.
DeveloperTown officials said a few key hires put it in prime position to target large clients. In late 2012, it brought on Randy Fisher as design partner and Julie Desutter as engagement manager, and in 2013 it acquired Nick Wangler as director of marketing strategies by buying local marketing firm New Ink.
Fisher, an ex-ChaCha executive, helped drive the importance of design and user experience. Desutter, previously a director at Liberty Mutual Insurance, helped systematize DeveloperTown's somewhat loose practices. Wangler brought market-validation expertise.
DeveloperTown officials think they'll run out of house space in their 22,000-square-foot warehouse within a couple of years. (IBJ photo/Eric Learned)
"We would not have survived almost tripling the company from [2013] to now," Cloran said, "if we hadn't moved away from a startup-superhero approach to fixing problems to saying, 'No, we're actually going to get rigorous about following this process.'"
DeveloperTown still has its challenges. One of the biggest is persuading corporations on the fence about buying versus building software to take the plunge to build. One way it makes that case is by hosting "Discovery Days," a data-gathering and discussion session about areas in which a company can innovate. The sessions cost up to $5,000, and DeveloperTown applies it to any follow-up work.
Even as DeveloperTown zeroes in on big clients, company officials want to be sure not to lose the startup energy and vibe. This is part of the reason the company continues to serve startups, even though that business has hardly grown the past several years.
And it recently began investing profits into a new company called DT Starts, which doesn't collect consulting revenue but rather creates tech products with other entrepreneurs and brings them to market as joint ventures.
The firm's continued interest in startups is "a symbiotic relationship," Cloran said. "It helps talented people want to work here and helps us keep fresh on the techniques that work in a startup."• 
Please enable JavaScript to view this content.