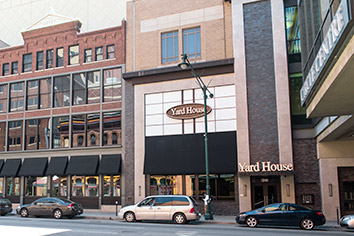 Circle Centre mall realized record revenue in 2016, boosted by a full year of operations for restaurant Yard House and the arrivals of Nada and Punch Bowl Social.
Mall manager Simon Property Group Inc. said in an annual operating report to the city that the 21-year-old downtown retail center posted profit of $10.7 million—a 5 percent decrease from 2015—on revenue of $24.9 million.
Last year's record revenue represented about a 1 percent increase from 2015, as the downtown shopping center continued to add more restaurant tenants to the traditional retail mix.
Occupancy for the first three levels of the mall, including anchor department store Carson's, fell from 95.6 percent at the end of 2015 to 94.7 percent at the end of 2016, the report said. Occupancy on the fourth floor remained stagnant, at 93.1 percent. 
New tenants signed in 2016 include Nada and Punch Bowl Social, in addition to Tervis, Primanti Bros., The Walking Waffle Co., Foot Prints, and R&R Barber & Beauty Salon.
"We expect sales and occupancy to grow in 2017 as the property continues to attract interest from restaurants, entertainment venues and retailers seeking prime real estate in downtown Indianapolis," said the mall's general manager, Luke Aeschliman, in the report.
Sales per square foot, the key measure of a retail property's productivity, rose to $331.82 in 2016 from $329.62 in 2015.
However, the sales-per-square-foot figure pales in comparison to that of Simon's overall portfolio of 175 U.S. malls and outlet centers. Those properties reported sales per square foot in 2016 of $614, down from $620 a year earlier.
Many of Simon's malls feature more upscale tenants than Circle Centre, which has filled some of its vacancies with shops that are unusual for malls, such as a convenience store. For example, Simon reported in 2015 that its top Indianapolis property, the Fashion Mall at Keystone, which is anchored by Saks Fifth Avenue and Nordstrom, rang up sales per square foot of $818.
Circle Centre is poised to add more non-shopping tenants in 2017, including Burger Study, a gourmet burger concept created by the owners of Harry & Izzy's and St. Elmo Steak House, and Burn by Rocky Patel, an upscale cigar lounge.
But Circle Centre continues to suffer from hits to its retail base, as malls nationwide face a shift in how consumers buy clothes. So far this year, women's closing stores The Loft, The Limited and Talbots have left Circle Centre. Talbots and The Loft were across from each other on the second floor.
Abercrombie & Fitch, Johnston & Murphy, Gap, Gap Kids, American Greetings, Yankee Candle Co. and Johnny Rockets also closed their Circle Centre operations in 2016.
For-profit educator Brown Mackie College, which occupied 25,000 square feet on the fourth floor, closed in June 2016.
On a brighter note, H&M reopened May 18 in more than 25,000 square feet at the mall, expanding into what was The Loft.
Circle Centre's general manager also noted the opening in September of the mall's Georgia Street entrance, "providing much needed connectivity on the south end of the property," Aeschliman said.
Meanwhile, Circle Centre accounted for $7.6 million in sales taxes paid to the state, $2.6 million in real estate taxes, and $1 million in food and drink taxes paid to the Capital Improvement Board.
The city, which owns the land on which the mall sits and the building itself, leases the property to Circle Centre Development Co., a partnership of Simon and 19 other local companies that provided $75 million toward the mall's $320 million development cost.
Please enable JavaScript to view this content.