Race fans can now view more than a dozen pieces of Indianapolis 500 history not on view in the Indianapolis Motor Speedway Museum by using a new 3-D internet database.
IUPUI's University Library Center for Digital Scholarship has partnered with the IMS Museum to preserve 13 Indy 500 artifacts using 3-D scanning technology.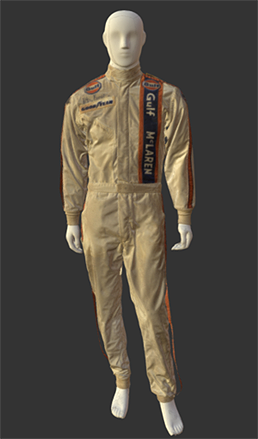 With 3-D scanning, this vintage racing suit worn by Peter Revson can be viewed at any angle. (Image courtesy Indiana University)
The pilot project at IUPUI includes items such as helmets worn by drivers Mario Andretti and Rick Mears and uniforms worn by Peter Revson and Bill Vukovich.
Vintage car hood ornaments are also catalogued on the website, as well as a cross-section of a piece of the racing surface that shows the track's 108-year history through layers of crushed stone, brick and asphalt.
The pieces are scanned with a handheld device that can take up to 1,000 photos a second. Jenny Johnson, IUPUI digital scholarship outreach librarian, said larger items like the drivers' racing suits took up to two hours to scan.
"In digitization in general, one of our main goals in the access and preservation of history," Johnson said. "It is so important to capture the history of these pieces."
Johnson said she believes The Center for Digital Scholarship is the only campus library program in Indiana using this technology. The center previously partnered with the Benjamin Harrison Presidential Site and Conner Prairie Interactive History Park for 3-D digitization projects.
"Almost every community and cultural heritage center has 3-D objects, and some of them never get to see the light of day," Johnson said. "Some museums only put out 10 percent of their collection."
IMS Museum Executive Director Betsy Smith said in an IU press release that the 3-D technology allows the museum to share items with the public that might not typically be seen due to a lack of museum space and some items' delicate nature.
"We're fortunate to have thousands of artifacts in our possession, but there are limitations to how we can share them with the public," Smith said in the release. "Scanning historic and sometimes fragile pieces in 3-D and saving them in a digital collection is a wonderful way of making more of our collection available."
Last year, the University Library Center for Digital Scholarship launched an online 500 Festival database compiling images of more than 8,000 items, such as race-day programs, postcards and tickets, as well as audio race summaries for every race through 2014.
The 3-D artifacts, which can be explored on a 3-D content hosting website called Sketchfab, have been added to this collection
The 500 Festival collection includes photos and records dating back to 1909 and is available for public searches free of cost.
Johnson said the IUPUI University Library funded the cost of the 13 pieces scanned in 3-D. If more funding becomes available, The Center of Digital Scholarship would like to continue cataloguing more items for the IMS Museum.
"There's so much more in the IMS Museum to discover," Johnson said in the IU press release. "With this 3-D technology, we can create as vibrant of a database as we have with other pieces of IMS and Indianapolis 500 history."
Please enable JavaScript to view this content.