Artisan Realtors
Type of business: Realty specializing in single-family homes,
condominiums and land sales
Address: 2 S. Johnson Ave.
Phone:
602-3550
E-mail: info@artisanrealtors.com
Web site:
www.artisanrealtors.com
Founded: October 2008
Owners:
Dan Adams, Bob Harton
Owners' background: Adams, 50, has been in
real estate for nearly 25 years, working for F.C. Tucker Co. and Graves Real Estate before owning a Coldwell
Banker office for 12 years with Harton, 55. After selling the branch, Adams worked as its manager until it closed
in 2008. Harton also worked at Tucker, then owned his own agency for six years before partnering with Adams in the Coldwell
Banker branch.
Why started business: After owning a franchise, Adams and Harton decided a private
company would be more cost-effective.
"You get exposure as part of a franchise, but it comes at an expensive
price," Adams said. "When 80 [percent] to 90 percent of our marketing is over the Internet, we can do the same
thing at a lower cost."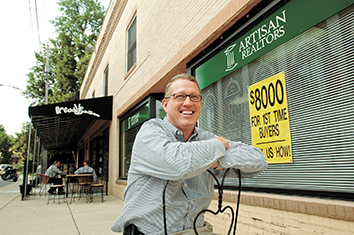 Dan Adams hopes locating next to an Irvington coffee shop will lure young professionals. (IBJ Photo/Robin Jerstad)
Adams
also said technological advances allow agents to do more work from home, eliminating the need for a large work space.
"We didn't want to pay the overhead for a big office space," Adams said.
Artisan Realtors
targets a young, urban clientele. "We felt the time was right for something that appealed to younger professionals interested
in arts and coffee shops," Adams said. "Hence the 'Artisan' name and our location directly adjacent
to a coffee shop."
Competitive advantage: Artisan Realtors' advantage over other
small agencies lies greatly in marketing, Adams said. The company uses the Web as its largest marketing source, allowing agents
to self-promote.
"We have a step up on the smaller companies that haven't put the dollars into Internet
advertising," Adams said. "We launched our Web site before we even opened our doors."
Adams
also said Artisan's Web site levels the playing field as it competes with larger real estate brokerages, in addition
to the experience and training of the Artisan agents.
Startup cost: $10,000-$15,000
Funding source: Owners' personal savings

Projected first-year revenue:
$250,000
Potential problem and contingency plan: Beginning a real estate agency during a national
housing crisis holds potential for disaster, but Adams said he and his partner have exceeded their expectations. Adams also
foresees potential risk of falling behind in technology. "We have no debt and very low overhead, so we just need to
stay on top of what's going on in the market," Adams said.
First-year goal: Artisan's
initial first-year goal was to employ 10 real estate agents, a milestone the agency met earlier this year. Next on Adams'
agenda: make a profit in the first year.
"The last company Bob [Harton] and I ran together took 10 years
to turn a profit, and I think we only did it twice," Adams said. "If we can turn a profit this year, we will be
1,000 times ahead of where we were before."
Five-year vision: In the next few years, Adams
and Harton would like to extend the agency's reach by opening other branches of Artisan Realtors.
"We
would like to clone ourselves," Adams said. "Not in a large way, but we see a possibility for a couple more offices
like ours."•
__________
Startups profiles local companies less than 1 year old.
For your company to be considered for a Startups profile, send complete information toIBJ's Small Business, 41 E. Washington
St., Suite 200, 46204, fax to 263-5406 or e-mail tparent@ibj.com.
Please enable JavaScript to view this content.