It's a good time to be a welder.

Facing a tight market, area employers are using headhunters, offering signing bonuses and developing in-house training to fill their available jobs.

Observers say both supply and demand factors are contributing to the shortage. On the demand side, the economy is strong, companies are expanding, and an aging workforce is approaching retirement. On the supply side, a strong emphasis on four-year college degrees has meant fewer students enter welding and other skilled trades.

"Welding and machining are both hot as far as we're concerned," said Kendra O'Brien, vice president of human resources at Indianapolis-based manufacturer Major Tool and Machine.

Major, which makes parts and components for the energy, aerospace, defense and other industries, employs nearly 70 welders and has openings for 10 more. The company is looking for experienced welders who also have fabrication skills, which makes recruitment even tougher. The company has turned to headhunters for help, O'Brien said.

"It's become more of a commonplace occurrence in the last few years, and I know we're not the only employer doing it," she said.

In Columbus, Toyota Industrial Equipment Manufacturing is facing a similar challenge.

The plant produces industrial forklifts, and its workforce of 1,200 includes about 190 welders.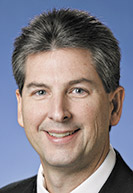 Pride
"Having the availability of skilled welders has been a challenge for the past two to four years," said Steve Pride, director of human resources, training and customs compliance at the facility. "In the past three to four months, it's become much more challenging again."

Toyota has plans to increase production this summer, Pride said, as do other area companies. At the same time, the unemployment rate is low, making it even tougher to find employees.

As of April, the state's seasonally adjusted unemployment rate was 3.6 percent—significantly lower than the national rate of 4.4 percent and lower than all its neighbors. In Bartholomew County, home to Toyota's forklift factory, the rate is even lower.

Within the last month, Toyota has started to offer signing bonuses and referral bonuses for its vacant welding jobs.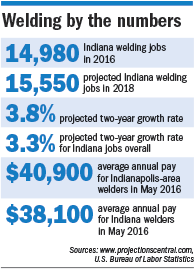 "We felt that it's necessary that we try to get more aggressive in our current recruiting efforts," Pride said.

Toyota has also established a scholarship program for high-school graduates who enroll in certain programs at Ivy Tech, including welding. Over the years, welding and other skilled trades have fallen out of favor as a career choice, he said.

"What young students hear when they're in school is, the normal path for them is a four-year college degree," he said.

As an example: A few years ago, Toyota established an in-house welding training program. In partnership with Ivy Tech, the program taught welding skills specific to Toyota's needs. Graduates earned a certificate from Toyota and a chance at a full-time job.

Toyota has offered this class a handful of times, with eight to 12 people in each class. Most have been mid-career students looking to switch fields, rather than young people right out of school.

Shifting attitudes

But relief might be on the horizon—Ivy Tech and other training programs say they're seeing increased interest from high-schoolers who are coming to recognize the opportunity the skilled trades offer.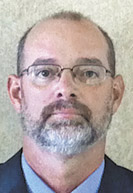 Johnson
"I do think it's turning around a little bit," said James Johnson, business manager at the Plumbers, Steamfitters and HVAC Service Technicians Local 440.

The union offers a five-year apprenticeship program whose current enrollment is 200 students; it has recently had more applicants than available openings. Apprentices can choose to specialize in one of several skilled trades, including welding.

Johnson said more than half of Local 440's current apprentices are between the ages of 20 and 30, including some college graduates who couldn't find jobs in their fields.People seem to be rediscovering the idea that skilled trades can be a good career choice, Johnson said. Journeyman wages for welders can top $36 per hour, he said, depending on skills and certifications.

Charles House, lead faculty welding instructor at Ivy Tech's Fall Creek campus, said he sees a shift among his students, too.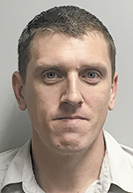 House
"I think students are starting to realize they don't necessarily need to have a four-year degree."

Ivy Tech offers a two-semester welding program, which prepares students to apply for American Welding Society certification—a standard industry credential.

Students with welding training can land a first job that pays $16-$18 per hour, House said. With 20 years of experience, they could end up making $45 per hour—or more, depending on their skills.

Steven Bardonner, dean of the technology division for Ivy Tech's Central Indiana region, said enrollment in the welding program at the Fall Creek campus has been at capacity—about 300 students total—for the 2-1/2 years he's been at the campus.

Yet, the school still can't produce "enough students to fill the need, and it's not because of lack of trying," Bardonner said. "The demand and the need is so great."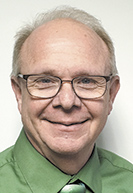 Bardonner
Ivy Tech currently offers welding instruction at 20 of its 32 campuses, Bardonner said. The school is considering whether to add it at a 21st site, in Noblesville.

It's hard to say how many graduates are needed to fill local demand, he said, because demand continues to increase.

More growth

O'Brien at Major Tool and Machine said that, over the past four years or so, she has also seen a growing interest in welding among young people. That won't solve the company's immediate need for experienced welders, but it might help down the road.

"I believe the promotion of welding as a career has ramped up quite a bit in the school system," she said. "It's certainly helping us find better entry-level employees."

The company has a 12-week, in-house welding training program that qualifies graduates for entry-level jobs.

Frank Svarczkopf, director of the Mc-Kenzie Center for Innovation and Technology in Lawrence, said his school's enrollment has grown tremendously in recent years.

This past school year, 2,350 students in the Metropolitan School District of Lawrence Township took at least one class at McKenzie. That represents about half of the district's high school enrollment.

In 2006, McKenzie's enrollment was only 700.

"The word's getting out. There's just a huge shortage of skilled trades," Svarcz-kopf said. Across McKenzie's various programs, which don't include welding, graduates who want to enter the workforce generally have no problem finding a job, he said.

The school discontinued its welding program several years ago when its welding teacher retired and the school couldn't find a replacement.

Aside from the more traditional welding training programs, a brand-new one might offer another alternative to easing the labor crunch. The program, which began June 1, is being offered at Ruckus, a maker-space at Massachusetts Avenue and East 10th Street run by the Riley Area Development Corp.

Ivy Tech's House is working with Ruckus to offer a 40-hour basic welding class. Eight of the nine students in the initial class are participants in RecycleForce, a not-for-profit that helps ex-offenders find full-time employment.

"We do hope that maybe some of them find this course to be really helpful," said Consuelo Poland, a community builder and artist at Ruckus. "There are so many jobs opening up for welders, and it has been that way for a while."

Poland, who uses welding in some of her artwork, said the program's goal is to give students a foundation that could lead to additional training or maybe an entry-level job.

"If you are really good at welding, you can make really good money," she said. "I think that this whole program could be a game-changer in a way."•