Several local not-for-profit and community groups are caught in a family dispute over the $31 million estate of Stephen Russell, the Celadon Group Inc. co-founder who died last year at age 76.

Groups including Herron High School, Congregation Beth-El Zedeck Foundation and the Jewish Federation of Greater Indianapolis are seeking upward of $1.7 million in total from the estate—donations Russell pledged before he died. But the donations could remain outstanding (if they are paid out at all) until the will of the deceased trucking magnate is settled.

Other groups—including the Phoenix Theater, Indianapolis Museum of Art, and Indiana University Foundation—were listed in court documents as potential creditors but are staying mum about their involvement.

One fundraising and philanthropy expert said Russell's estate is a case study in the importance of charities' appropriately documenting pledges in case a donor dies before the pledge is fulfilled.

That's something charities do with mixed success, said Philip Purcell, a consultant and adjunct faculty member at the Indiana University Maurer School of Law and at the Lilly School of Philanthropy.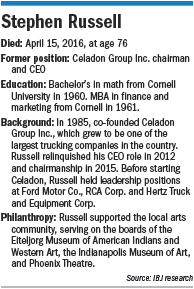 "A lot of charities may not think about this," Purcell said. "They just simply feel fortunate to get the pledge and don't want to press it. It's a responsibility I would encourage both the charity and donor to think through and make appropriate provisions."

He said many charities "do not ask enough questions or do as thorough a job as they should when talking to donors about their estate gift or when an estate is opened after a donor dies to make sure their interests are protected."

In the Russell case, the not-for-profits are still waiting. Russell's three adult children last June asked a Hamilton County judge to declare void a will written eight months before Russell's April 2016 death that raised the inheritance of his second wife, Livia Russell, from $4 million to $9 million. The children claim that would effectively divert millions from a trust that would benefit them.

IBJ reported in August that attorneys in the case said they were hashing out a settlement. But none has been filed with the court and a trial has been scheduled for January 2018 if the sides don't come to an agreement.

Lawyers representing several parties in the case declined to talk with IBJ about its status. Brian Hewitt, the court-appointed special administrator of the estate, told IBJ he didn't have a comment. Davis Coots, Livia Russell's lawyer, said he had no comment "since it is in pending litigation." Richard Smikle, the lawyer for Russell's children, also declined to comment.

At issue is whether Russell had diminished mental capacity when he wrote the will in question. The court's decision on that key point could determine the validity of any donations he made to groups in the last years of his life.

"That's going to be a scenario that's going to have to play itself out in court," Purcell said. "The timing [of the donations] is very important. A general pledge is essentially regarded as a contract. You've got to have mental competency to fulfill the promise."

Claimants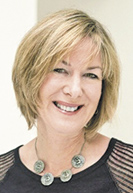 Taft
Herron High School made claims asserting $1.59 million in unpaid donations. In its claim, Herron asserts that Russell paid about three-quarters of a $2 million pledge he made in 2013, which resulted in Herron's renaming the main building of its campus "Steve and Livia Russell Hall."

The gift agreement also stipulated that Russell and his wife would be "eligible to serve, and will be asked to serve, on the board of the school during the time period in which the gift is being made."

In 2015, Russell pledged another $1 million to Herron, which was never paid.

Herron's board president, Joanna Taft, said she is confident Herron will eventually receive the remainder of the 2013 gift.

"I've not gotten any phone calls of anyone being frantic about that gift," she said.

But she said "we'll have to see" about the 2015 gift.

Herron, which this fall is opening a second charter high school in the Riverside neighborhood and has just partnered with IPS through its innovation schools program, said the outstanding money has not held back its plans. Construction on the high school is behind schedule, but Taft said that is because of a delay in a federal tax credit it was relying on.

"We never counted on [Russell's donation], because we don't count our chickens before they hatch," Taft said. "We hope that gift will become available. We've operated as though that gift will be a blessing if it comes.

"We know Steve loved Herron and was someone who really cared about graduation rates and came from a very disadvantaged background and it was education that saved him," she said. "We know that his heart was there and we'll always remember that."

Most of the groups were tight-lipped when contacted by IBJ about the status of the case and whether they thought they'd get their outstanding pledges.

Congregation Beth-El Zedeck Foundation filed a claim in late 2016 to collect $100,000 from the estate, the amount of a pledge made by Russell that was to be paid from 2015 to 2019. Rebecca Geyer, the group's attorney, said her client declined to comment "out of respect to the Russell family."

The Jewish Federation of Greater Indianapolis has a claim of $18,000, which it says in court documents is the amount pledged by Russell. Ron D'Avis, an attorney representing the Jewish Federation, said he had no comment on the status of the case.

And another Jewish organization, Merkos L'inyounei Chinuch Lubavitch of Indiana, has filed a claim for $14,400. That group's attorney, Heather Shumaker, did not reply to IBJ's request for comment.

More fuzzy

Then there are other groups whose statuses in the case are less clear.

The Phoenix Theatre, Indianapolis Museum of Art and the Indiana University Foundation are listed as potential creditors to the estate in a petition filed by attorney David Faust.

However, those groups do not appear on a list of allowed and disallowed claims filed by Hewitt, the court-appointed administrator.

Spokespeople for all three groups declined to comment. Phoenix Theatre Producing Director Bryan Fonseca said he had been advised not to comment because "there's just a lot going on with the estate."

Russell was known as a longtime donor to and fan of Phoenix Theatre. Its 135-seat "Livia & Steve Russell Stage" is named after the couple.

IMA spokeswoman Stephanie Perry said the museum was "unable to participate [in an interview] at this time."

Russell also has a long history of being involved with the IMA. He formerly was a chairman of the museum's board, and the Russells created the Russell Student Access Program at the IMA to allow free admittance for K-12 students in Marion County.

A donor profile on IMA's website says that, "due to the generosity of the Russells, many children will be able to decide for themselves what art is and what it means to them."

Matt Kavgian, director of strategic communications and projects for Indiana University Foundation, said the group "does not disclose the details of donor gifts and estate plans without donor consent."

Stephen and Livia Russell are listed on the 2015-2016 donor roll of the Indiana University Robert A. and Sandra S. Borns Jewish Studies Program as being "benefactor friends" giving $1,000 or more.

Purcell said these cases—and whether charities decide to pursue pledges made by a deceased donor—are often awkward and depend significantly on the strength of the documentation the group possesses. He encouraged groups to seek legal counsel if they're in this situation.

"Charities like to avoid disputes with donors and their families if they can," Purcell said. "That's a very difficult situation from a public-relations standpoint. They don't want to be perceived as argumentative."•