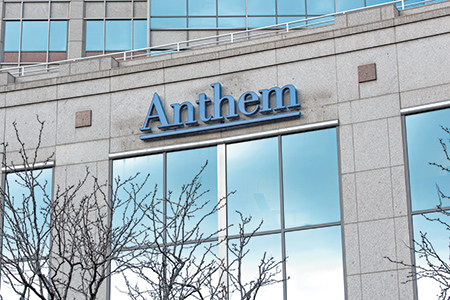 Anthem Inc.'s decision to quit Ohio's Obamacare market will leave 13,000 people without any coverage option under the program next year. That number could rise to 300,000 if the health insurer follows suit in the rest of the states where it sells.
Indianapolis-based Anthem, which currently oversees Affordable Care Act plans for about 1.1 million people in 14 states, is one of the largest of the multistate insurers that hasn't pulled back sharply from selling individual plans in the ACA. In April, it said it was " assessing our market footprint in 2018," and, on Tuesday, the company said it would leave Ohio.
Insurers are increasingly stepping away from the law amid financial losses on their plans, Republican threats to repeal large sections of it, and President Donald Trump's administration's efforts to undermine parts of the program. Trump has called the program a failure and has backed efforts to replace it.
Currently, there are more than 30,000 people with Obamacare plans who are projected not to have an insurer under the program next year, according to data compiled by Bloomberg. An Anthem exit would raise that number to 300,000 people in seven states. The numbers could change as more insurers decide to join or leave the program, and states are still hearing from insurers about their intentions. Bloomberg's analysis includes exits by other insurers.
About 12.2 million people bought insurance plans on Obamacare's exchanges for this year, with 10.1 million of them receiving government subsidies to help them afford the insurance, according to a U.S. government report. The health law's subsidies are only available for insurance plans sold in Obamacare's markets.
The loss of another insurer in the program would put more pressure on Republicans in Congress who are attempting to repeal and replace large parts of Obamacare, which they also call a failure. Repealing the law—a key GOP campaign promise—has proven harder than expected as lawmakers haven't been able to reach consensus on what a revamped system would look like, or how to cover millions of Americans who are insured under the program.
In a visit to Ohio Wednesday, Trump called again for Congress to move quickly ahead with its Obamacare replacement bill, which is currently being revised by the Senate after being passed by the House.
"The Republicans are trying very hard," to get a bill passed, Trump said, "and the Democrats are in our way." Ohio is the home state of Republican Senator Rob Portman, who's said he supports health-care reform but not the House bill.
In the meantime, management of Obamacare has been left in limbo. The administration has threatened to stop paying subsidies to insurers that help some lower-income people use their insurance plans. That threat has caused insurers to say they'll raise rates for next year, or leave some markets entirely.
Anthem's view
"Planning and pricing for ACA-compliant health plans has become increasingly difficult due to the shrinking individual market as well as continual changes in federal operations, rules and guidance," Anthem said of its exit from Ohio. "The lack of certainty of funding for cost sharing reduction subsidies, the restoration of taxes on fully insured coverage and, an increasing lack of overall predictability simply does not provide a sustainable path forward to provide affordable plan choices for consumers."
Anthem's Ohio exit will leave 20 counties in the state without an Affordable Care Act coverage option in 2018.
Blue Cross Blue Shield of Kansas City said last month it will pull out of the exchange in Missouri, leaving 25 bare counties and about 18,500 people without an ACA coverage option. Humana Inc. said earlier this year it would pull out from all 11 states next year where it currently sells ACA plans.
Aetna Inc. said in May it would do the same, also announcing plans to abandon the few remaining states where it had been selling ACA coverage. UnitedHealth Group Inc., the largest U.S. insurer, has already exited ACA exchanges in most of the states where it sold plans. Some small and regional insurers have pulled out of states or counties as well.
If Anthem decided to leave the exchanges nationwide, another 310 counties could be without ACA plans in Colorado, Georgia, Kentucky, Missouri, Nevada and Virginia in addition to Ohio, bringing the total number of bare counties to 355. Anthem did file a rate request in Virginia for next year but could still decide not to sell there.
"This is just more evidence that conditions under Obamacare are just going to get worse. It is collapsing under its own weight," Representative Pat Tiberi, an Ohio Republican, said Tuesday in a statement.
The U.S. House last month passed the American Health Care Act to repeal and replace parts of Obamacare. Now, the Senate is working on its own version of the legislation. Senate Majority Leader Mitch McConnell said Tuesday the chamber is " closer to having a proposal that we'll bring up in the near future."
Please enable JavaScript to view this content.