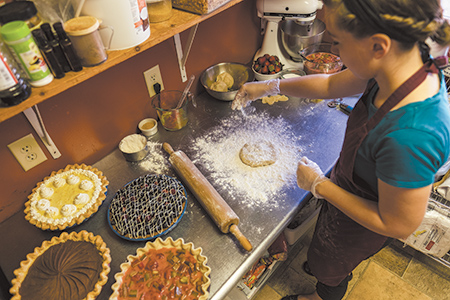 The Indiana Foodways Alliance, a not-for-profit that promotes local food culture in Indiana, has turned previously isolated eateries into stops along specific trails. There's now a Tenderloin Trail, of course; a BBQ Trail; and even a Winner Winner Chicken Dinner Trail, among many others.
While these trails aren't as well-defined as one would expect a trail to be—the scattered points on the map don't always easily connect into a drivable dining adventure—I nonetheless set out to explore the Hoosier Pie Trail, limiting myself to places within a few counties of Indianapolis (for all the stops, visit www.indianafoodways.com).
There were a few missteps. Rosie's Place, in Noblesville, had plenty of cakes and other goodies but, alas, no pie. Shouldn't an eatery given such an honor at least have a slice of sugar cream pie to offer a weary traveler? And after sitting down at Bill and Gloria Gaither's Pure & Simple Restaurant in Alexandria, tucked away inside a massive gift shop dedicated to the Christian music creators, I was told the pies weren't made on premises. I promptly paid for my iced tea and left.
But what I found at six other stops did Indiana proud.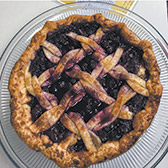 Oasis Diner
405 W. Main St.; Plainfield; 317-837-7777
The nostalgia is palpable in this authentic diner, transplanted here from New Jersey and decorated not just with photos from the move, but also with vintage lunch boxes and license plates.
The pie: Let other places process their blueberries into a consistent compote. At the Oasis, the berries are whole and plentiful and difficult to contain within the delightfully crumbly crust.
Notes: This stop required a revisit because, despite asking the hostess to save us two slices of pie and letting our waitress know we definitely wanted to end our meal with pie, when it came time to actually have pie, we were told the last pieces were sold. Infuriating, especially when our disappointment was laughed off. Still, I'm glad we returned.
Bonus: Butterscotch Root Beer, a why-isn't-this-available-everywhere beverage. And breakfasts that could feed armies.  
Gray Brothers Cafeteria
555 S. Indiana St.; Mooresville; 317-831-7234
The legendary Mooresville cafeteria has been family-owned and -operated since 1944—and there seems to be a variety of pie available for every one of those years. The cafeteria structure means you have to parade past your options on your way to the register, forcing you to make your selection at the same time you decide on your meal.
The pie: Quantity and price are as important as quality here. If you like your Pecan Pie dense, this is the place for you. You might wonder how such a solid object is going to make the journey to your stomach—especially at the end of a filling Gray Brothers meal …
Notes: The staff is more than willing to help you get your tray to your table in one of the spacious dining rooms. Beware holidays. You know those lines you stood in on your trip to Disney World? These can be comparable.
Bonus: Fried chicken makes it worth the drive.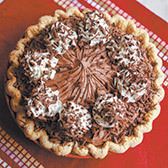 Bread Basket Cafe & Bakery
46 S. Tennessee St.; Danville; 317-718-4800
At $6 a slice, this homey spot is a bit on the pricier side of the pie trail, but quality and charming atmosphere have their cost. Here, a converted home now houses a quilted tableclothed breakfast/lunch restaurant where neighborly service and obvious pride in presentation are key.
The pie: Everything looked great, but the French Silk—essentially fudge plus crust—won our taste buds over. And make sure to take home a small Sweetie Pie for sampling later.
Notes: Almost as good as the pie is the smell you get from the walk through the kitchen you have to take to get to the dining room.
Bonus: Fresh breads, which are this spot's bread and butter (sorry), are difficult to resist.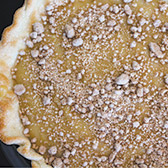 Anita's Kitchen
777 E. Water St.; Pendleton; 765-778-0001
A down-home diner with a few seats at the counter and the rest in a dining room, Anita's Kitchen has become a popular meeting spot for locals, thanks in part to its 5 a.m. opening time.
The pie: The Peanut Butter Crumb lets the filling do the talking. The thin crust is barely noticeable against the oh-so-good filling. A few crumbs on top serve as accents.
Notes: HR folks from much larger companies should take a trip to Anita's just to see what real customer service looks like. How is it that a place like Anita's can have a staff that treats customers so right when places with greater resources can't?
Bonus: Mush. Yes, I said mush. Try it with your breakfast next time you stop in.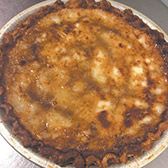 Cabbage Rose Eatery
1013 Meridian St.; Anderson; 765-393-3061
Since 1997, this quaint lunch-only spot in downtown Anderson has housed a cafe where even the hand-breaded tenderloin seems delicate. There's also a small gift shop inside that sells handmade soaps and other practical and decorative items.   
The pie: Alas, no butterscotch available during my visit, but the Hoosier standard, the Sugar Cream Pie, was a perfectly satisfying substitute.
Notes: If you visit on a weekday, you should anticipate a wait since the place fills up quickly with folks who like to linger.
Bonus: Chicken Velvet Soup every day.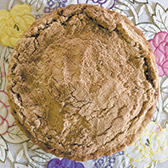 Lisa's Pie Shop
5995 U.S. 31; Atlanta; 317-758-6944
An oasis of baking magic in the middle of farm fields, Lisa's Pie Shop has a few tables for dining but does most of its business with loyal takeout customers ordering whole pies (most only $12) to go.
The pie: The award-winning creations don't try to get fancy. Instead, they rely on a substantial crust with flecks of glistening sugar (you can break off a piece of the crust and eat it alone every time) and hefty amounts of fruit or other ingredients. My Dutch Apple lasted for many happy days. Filling fanatics can also purchase Pie in a Jar.
Notes: Owner Lisa Sparks doesn't actually like pie. This is one of the great mysteries of the universe. Beware of erratic hours around the holidays and pie competitions.
Bonus: Heat-and-eat Quiche, which I would tell you about if I hadn't left the room after heating it and returned to find that my son had eaten the entire thing.•
—Lou Harry
Please enable JavaScript to view this content.