Rebecca Reott is director of HR at Hanapin Marketing, a Bloomington-based digital ad agency that's been getting increased acclaim as a great workplace.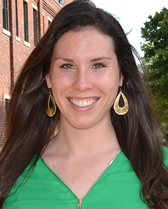 Rebecca Roett
In November, Ad Age named it a "Best Place to Work in Advertising and Media," and this month Inc. included it on its "Best Workplaces" list. And in May, the Indiana Chamber named Hanapin to its "Top 100 Best Places to Work in Indiana" list for the fifth straight year.
Reott, who joined Hanapin in 2014, has ushered in several programs and perks at the 63-employee firm. She spoke with IBJ this week about a few of them, including four-and-a-half-day workweeks and so-called "stay interviews."
IBJ: What does Hanapin do?
REOTT: We are a pay-per-click advertising agency. We do digital advertising on Google, Bing, Facebook, Twitter.
IBJ: You have four-and-a-half-day workweeks and three-day weekends every quarter. Why?
REOTT: We really value employee's time away from the office, and we think that having that balance makes them a stronger employee. With four-and-a-half-day work weeks, if they work a little extra Monday through Thursday, they can leave early on Friday. So a lot of times people will leave by 11 a.m. and have the afternoon off.
And the three-day weekend each quarter are designed specifically to help the team rejuvenate and refresh. They can run errands, the can do nothing, they can travel, but it's a day away from the office when the rest of the world is still working.
They're on the second Friday of the second month of each quarter.
IBJ: How does your health and wellness program work?
REOTT: It's called Hanafit, and we focus on different aspects of health and wellness—physical fitness, mental health, community contributions, and relationships with each other.
We have anywhere from two to four events per month in the different categories, and it's organized by different members of our team. 
IBJ: Give me an example of the types of events?
REOTT: On [June 9] we're going to Griffy Lake Nature Preserve, jumping in a bunch of canoes and picking up trash that's in the lake.
Recently we helped get a mailing out for Area 10 Agency on Aging. We made a Hanafit cookbook of healthy meals. We all had a bike-to-work day. Oh, and this Wednesday we're all doing beginners clogging.
IBJ: What are "stay interviews"?
REOTT: Stay interviews are a retention tool that we use to help understand what motivates each employee and what would keep them happy and engaged. The concept is based off of exit interviews, but instead of asking it when they're leaving, we're asking questions while they're still at the company. The idea is that you can find things that you can change to make the employee's day better or improve their situation.
IBJ: Where do you get inspiration for some of these ideas?
REOTT: It varies. Four-and-a-half-day work week and "2nd Second" [second Friday off the second month of each quarter] are things our executive team came up with on their own.
A program called "Get Healthy" that we launched recently is another one we came up with on our own. It's unlimited paid time off for contagious illnesses. It's kind of built off the concept of having unlimited time off, which is what a lot of companies were doing, but we looked at what they were doing and it wasn't quite the right fit for us. So we built this program to accomplish our goals.
IBJ: Are there any trendy programs that you've seen other companies do that you passed on trying?
REOTT: There's lots of trendy programs out there, and unlimited PTO is one of the biggest ones. A couple years ago, we looked at it and thought, "No way will this work for our team." And I think a lot of the companies that rolled out unlimited PTO are starting to roll it back. There are employees that overuse it and are always on vacation and the employee that never uses and gets burnt out. 
And a lot of companies are rolling out pet-friendly workplaces allowing people to bring their pets to work, and I don't think we'll ever jump on that ship.
IBJ: How's productivity with some of the reduced-workweek programs you have? 
REOTT: With four-and-a-half-day work weeks I think it actually motivates the team to be more  productive. They know that if they are more productive and they get their work done and they don't waste a lot of time, they actually get to leave earlier.
For the most part, they're salaried workers, so if they have work they need to do they have to keep working and get it done. But knowing that you can leave at 11 a.m. on a beautiful sunny Friday and go to the lakehouse early or go hang out with friends or go work out—it really motivates people to be productive during the time they spend in the office.
IBJ: What technology do you use to aid employee-engagement efforts?
REOTT: The one that I've found to be most impactful is TinyPulse. We've used it for about four years now, and it surveys employees completely anonymously. Every two weeks I'll ask a question and they'll provide feedback. And I can communicate with employees inside the app anonymously. And so it's really been a great source of transparent and honest conversation for us.
IBJ: What's been the net impact of some of these different perks and programs?
REOTT: When I started our retention rate was in the low 60s—about 63 percent. And then we rolled out goal-pathing, stay interviews, the Get Healthy program and increased our PTO rates and the list goes on. And we reached a peak retention rate of about 92 percent, and we're hovering right around there.
And great things happen because all the numbers are tied together. Turnover decreases and tenure of the team increases because we're able to retain more of our institutional knowledge.
Please enable JavaScript to view this content.