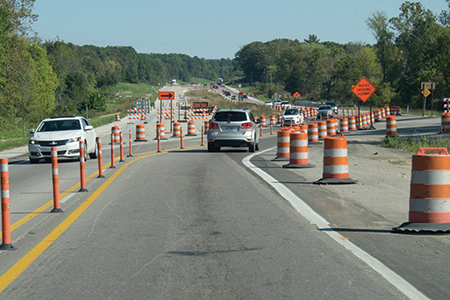 The state of Indiana is taking control of a long-delayed section of the Interstate 69 extension three years after hiring a private developer to complete the work.
The Indiana Department of Transportation said Friday that the Indiana Finance Authority, privately run I-69 Development Partners and the company's bond holders have reached settlement agreements in principle for INDOT to assume control of Section 5 between Bloomington and Martinsville by July 31.
INDOT says the deal is subject to approval by the IFA's board.
Indiana Public Finance Director Dan Huge says the deal won't increase the overall project cost to taxpayers and may provide some savings. He says the original cost of the project in current dollars is about $590 million, while the new agreements and structure total about $560 million.
Indiana Chamber of Commerce President Kevin Brinegar called the announcement of the takeover the "absolute right thing to do to ensure that this segment and the entire project is completed as quickly as possible."
"We must stay on course, because the ramifications are too important," Bringer said in a statement. "When fully finished, the new I-69—from Evansville to Fort Wayne—will help further Indiana's position as the Crossroads of America."
The state announced the proposed takeover on June 4, along with the project's fourth delayed completion date of August 2018.
"We're going to get this job done," Gov. Eric Holcomb said then. "People are going to be able to drive from Evansville to Indianapolis, light-free, on a true freeway. I look forward to that day."
Construction continued during negotiations to reclaim the project. The finance authority said earlier this month it would take nearly $237 million to complete the extension, which will connect Evansville to Bloomington, but only $72 million is available.
The I-69 Development Partners originally bid $325 million to win the project. The group, led by Isolux Infrastructure Netherlands, was to arrange its own financing to design and build the Bloomington-to-Martinsville section of the project. In return, the state would make annual payments of nearly $22 million to the group to operate and maintain the highway for 35 years after its completion.
Work began in 2014 and was originally slated for completion by the end of 2016. But multiple delays have raised concerns.
In March, the Spanish company Isolux Corsan—which comprised 80 percent of I-69 Development Partners—began insolvency proceedings in Spain. 
Please enable JavaScript to view this content.