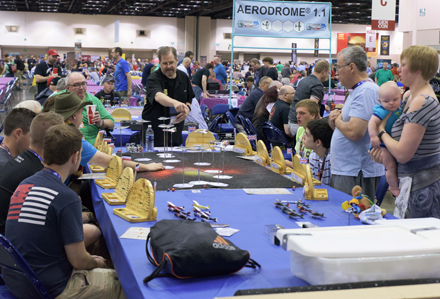 Gen Con officials announced Thursday they have sold out of four-day badges—for the first time in the annual event's 50-year history.  
The four-day badges, which cost $90, will allow attendees to attend the tabletop gaming convention in downtown Indianapolis every day it is held from Aug. 17-20.
One-day tickets for this year's convention are still for sale, but Gen Con spokesman Jake Theis told IBJ that event organizers expect them to sell out well before this year's event. 
One-day tickets for Thursday, Friday and Saturday cost $55 apiece. On Sunday's Family Fun Day, a package of four tickets can be purchased for $45.
Gen Con has taken place at the Indianapolis Convention Center since 2003 and expanded into Lucas Oil Stadium last year. 
For the first time, there will be no on-site ticket sales. But to accommodate a record crowd, Gen Con has increased the ticket pick-up area in the convention center by 25 percent.
This year marks the 50th anniversary for the Gen Con event, and show organizers are planning special attractions and events to commemorate the convention's history.
This year, the show is utilizing more of the stadium, using the field space for the first time as well as meeting rooms and exhibit halls. A replica of the very first Gen Con, which took place in in Lake Geneva, Wisconsin, will be built on the stadium field.
Also for the first time, Gen Con will use Bankers Life Fieldhouse, where a concert featuring Grammy Award-winning They Might Be Giants is scheduled for Aug. 17.
"Though four-day badges are sold out for Gen Con 50, there are still many opportunities to attend the convention and take part in the celebration," said Gen Con LLC CEO and owner Adrian Swartout said in written statement.
Visit Indy Vice President Chris Gahl told IBJ that local hospitality officials are expecting "a record crowd," adding that it could be one of the biggest conventions the city has ever hosted.
Gahl said excitement for the event is so high, Visit Indy expects people who don't have convention tickets will still visit Indianapolis for the related Gen Con festivities, including parties on Georgia Street and ad-hoc gaming in almost every downtown hotel lobby. 
Last year, nearly 61,000 unique visitors attended the four-day event with an overall turnstile attendance of 201,852. 
Visit Indy estimated the economic impact of the last year's event at just less than $71 million. Multiple hospitality officials told IBJ they expect that figure to be between $75 million and $80 million this year.
"We are anticipating this to be the largest Gen Con ever hosted," Gahl said. "We're bracing—in a good way—for a truly enormous event."
Please enable JavaScript to view this content.