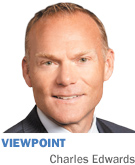 We live in an age of personalization. We can now personalize virtually everything, from our shoes to our news. While it seems wonderful and cozy, like the personalized blanket you had your personalized assistant order from your personalized Amazon page, personalization has a cost. The cost is that we lose sight of our place in larger and more diverse things (family, community, the planet, etc.).
Personalization of information is particularly problematic. Like Alice in Wonderland, we have fallen into rabbit holes. Like a real rabbit hole, we are buried in our own personalized sources of information, and, like Alice, we are lost in these sources in such a way that it is impossible for us to see anything else.
The ability to personalize our lives is not itself a problem. The technology that has enabled personalization also has expanded the ability of people throughout the world to communicate with one another and has expanded the sources of available information. People in the poorest places in the world can now access information not previously known to them to improve their lives.
The problem is what some of us are choosing to do with this ability. ISIS, for example, is choosing to use this ability to personalize messages to disaffected and desperate young men and women around the world to facilitate their goal of promoting fear and destruction. Some of us are using this ability to personalize our belief systems and shut ourselves off from information and ideas that might challenge those beliefs and cause us to think and act differently.
We live in a time when anyone can communicate with everyone, yet many of us feel increasingly isolated and alone. We must resist the urge to pick up a shovel and dig ourselves deeper into our personalized rabbit holes. Instead, we need to pick up ladders and climb out of our rabbit holes. We need the light of diverse sources of information to test our beliefs and allow others to test their beliefs.
This is not easy. One of the most difficult things to do as a human is to accept that others have beliefs different from ours but just as genuine as ours. Beliefs are rooted in some experience or teaching. They are connected to emotions and are not easily cast aside.
As a law student and young trial lawyer, I was taught how to collect facts and argue those facts to a judge or jury to bring about a desired outcome. But what I have learned over time is that people do not make decisions based on facts; they make decisions based largely on beliefs and feelings. That creates a challenge not just for trial lawyers, but for all of us in our daily interactions with others. Facts are real and they are important, but equally important are the feelings and beliefs of the people receiving those facts. If you ignore those, you will not convince anyone of anything, no matter how many facts might favor your side.
We are watching this play out daily. Facts are characterized as "fake news" or "alternative" or just dismissed as not facts at all. Some of this might be nefarious. But the acceptance of these explanations by listeners is largely genuine and based on their feelings and beliefs. Affecting those requires hard work and personal interactions that acknowledge and explore those feelings and beliefs. Like a trial, it requires that each side get its opening statements, its proof and its closing argument. That requires us to get a ladder, climb out of our rabbit holes, and make our case.•
__________
Edwards is co-chairman of the insurance recovery and counseling practice group at Barnes & Thornburg LLP.
Please enable JavaScript to view this content.