A wine bar and market is coming to Fountain Square and plans to occupy the vacant retail building that last housed Skip's Market.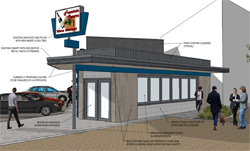 Named The Wine Market at Fountain Square, the shop and meeting place is set to open in October, the owners said in a Tuesday press release. They received approval on the building design on July 5 from the Indianapolis Historic Preservation Commission and are beginning renovations. (Click accompanying image for a larger view.)
Co-owners Kris Bowers and Zachary Davis in May signed a five-year lease for the two-story, 3,100-square-foot building at 1031 Virginia Ave., according to an IHPC filing. The building, constructed about 1950, sits along the Cultural Trail at the northwest corner of Woodlawn Avenue. 
"Sitting right beside the Indianapolis Cultural Trail offers easy access and visibility," Bowers said in the release.
"Patrons will visit The Wine Market for two specific purposes: to sit and enjoy wine and light snacks or to purchase bottles of wine to serve at home," Davis said.
The Wine Market will seat 50 on the first floor and 24 in a private event area on the second floor that will be available for meetings and gatherings, they said.
The building in the heart of the south-side Fountain Square neighborhood has been vacant for several years.
In September, local restaurateur Neal Brown announced his plans to open Japanese bistro Ukiyo in the Skip's Market building before backing out. Ukiyo now is slated to open where Recess had operated, at 4907 N. College Ave.  
Please enable JavaScript to view this content.