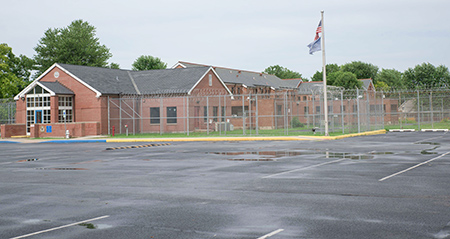 The planned closing of a state prison on the near-east side will put into play an entire city block just minutes from downtown that could be ripe for residential development.
In June, the state Department of Correction announced that the Indianapolis Re-Entry Educational Facility is expected to shut its doors by July 31, presenting the unusual opportunity to redevelop 16 acres in an area strapped for private investment.
The complex at New York and Randolph streets operates as a minimum-security prison and, before that, was the Indiana Women's Prison. It has been a correctional facility since opening in 1873, just eight years after the Civil War ended.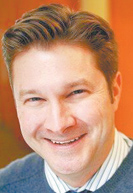 Bennett
To have that much land become available so close to downtown after 144 years is enticing to the city, which could assist in redeveloping the property, said Jeff Bennett, the city's deputy mayor of community development.
"It's been on the east-side neighborhood's radar for years," he said. "Everybody's just sort of waited to see what the state someday would do with that, and now we're here."
Mayor Joe Hogsett campaigned on a platform of prioritizing neighborhoods, suggesting that many have been neglected at the expense of big downtown development. Investing in the redevelopment of the prison property would play into his mayoral ambitions.
"If given the opportunity, we would actively pursue," Bennett said. "It's one of vital importance and location; it seems to me that it would benefit from some city guidance."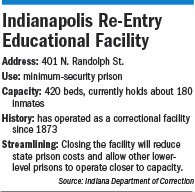 Residential development mixed with a park would be ideal, Bennett said, since area residents need to cross busy East Washington Street to get to Willard Park, the closest playground for children. The park sits about four blocks south of the prison.
The parcel is surrounded on three sides by homes worn by decades of neglect and is bounded by New York Street to the south, Michigan Street to the north, Tecumseh Street to the east, and Randolph Street to the west.
To the north sits the historic Woodruff Place neighborhood and beyond that a section of East 10th Street that's beginning to show signs of rejuvenation.
On a broader scale, the near-east side has benefited from $70 million in public and private investment leveraged through the Super Bowl Legacy Project that sprang from Indianapolis' hosting the big game in 2012.
And in 2015, the near-east side received a boost by snagging one of eight Promise Zone designations nationwide from the federal government. The designation does not include any direct federal money but gives impoverished areas a leg up in obtaining federal assistance.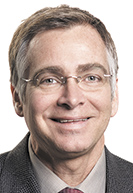 Hay
Redeveloping the prison property would add to the momentum, said John Franklin Hay, executive director of the not-for-profit Near East Area Renewal.
"The neighborhood has grappled with working around the prison for more than a century, and we all feel like it's time to end it," Hay said. "This is the time to make a big difference."
Topping the list of neighborhood priorities is that the prison not continue as a correctional facility under a new owner, such as a private operator, Hay said.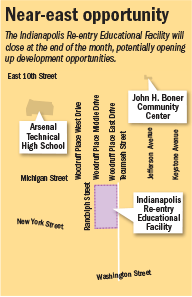 The state's Department of Administration is charged with disposing of the property. What the process will be and the timing is unclear.
DOC spokesman Doug Garrison said the remaining inmates were transferred to other facilities earlier in the month but that there is no "definitive timeline" for potential disposition of the property.
The state's Department of Administration is required to notify other state agencies and educational institutions and can transfer the property if one is interested. The property also may be sold in a competitive bid process, Garrison said.
DOC Commissioner Robert Carter said in June that the closure would reduce Indiana's prison expenses and allow other low-level prisons to operate closer to their optimal level.
Neighborhood residents plan to meet with state Sen. Jean Breaux and state Rep. Dan Forestal, Democratic legislators whose districts encompass the prison site, to ensure they have a voice in its future.
Among neighbors' other priorities for the property: that it not be redeveloped into high-end housing and, echoing Bennett at the city, that a park be included in redevelopment.
"We want them to know that we are very concerned about what happens next," Hay said. "No one is opposed to good development, and the idea of a park would bring incredible value to everything around it."
Neighbors are organizing because they've heard rumblings that developers already are expressing interest in the property, Hay said. A "neighborhood summit" is set for July 27, at the John H. Boner Community Center on East 10th Street, to call for a task force to explore a reuse for the facility.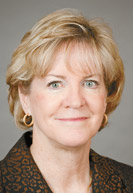 Hohmann
Abbe Hohmann, president of Site Strategies Advisory LLC, isn't surprised that developers are circling.
"It certainly will have some interest, just because of its size and location," she said. "It's big enough to be interesting."
Hohmann helped Indianapolis Public Schools in its sale of the former Coca-Cola bottling plant at College and Massachusetts avenues. On July 19, the Indianapolis Historic Preservation Commission is set to vote on Hendricks Commercial Properties' plans for its $260 million Bottleworks mixed-use project.
That site, at 11 acres, is smaller than the 16-acre prison property and puts into perspective the vastness of the parcel about to become available.
"In terms of both new facilities and investment in the area, it really is an incredible time," Hay said. "Yet, right in the middle of this is a no-man's land that has stifled development for years."•
Please enable JavaScript to view this content.